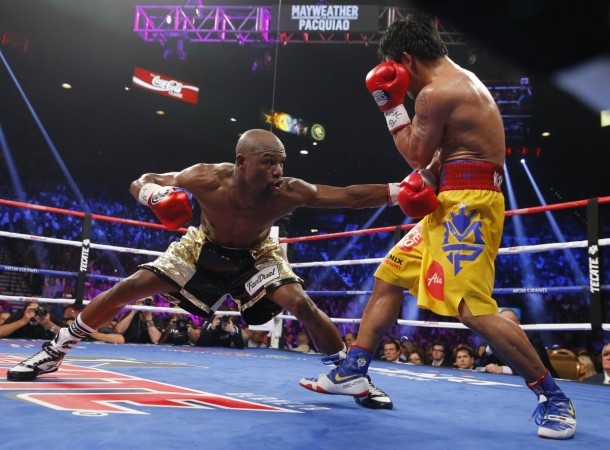 Floyd Mayweather may have won mega bucks after defeating Manny Pacquiao on 2 May at MGM Grand, Las Vegas, but the pound-for-pound boxer has been stripped of the welterweight world title which he had won after winning the fight of the century against Pacquiao.
It was Floyd Mayweather's 48th straight victory in professional boxing.
With Mayweather holding belts in different weight classes, he was given plenty of time to decide as to which weight class he wants to stick to, as the World Boxing Organization rules clearly state that a boxer can only hold a belt in one particular weight category.
He was also required to pay a $200,000 sanctioning fee as he had made more than $220 million from his fight against Manny Pacquiao. The fight of the century broke a number of box office records as well.
With no response from the Mayweather camp, the WBO were forced to take such an action.
"The WBO World Championship Committee is allowed no other alternative but to cease to recognize Mr. Floyd Mayweather, Jr. as the WBO Welterweight Champion of the World and vacate his title, for failing to comply with our WBO Regulations of World Championship Contests," the WBO said in a statement.
"The WBO has the utmost respect for Floyd Mayweather Jr. and all that he has accomplished during his storied career. Mr. Mayweather has always agreed with and understood that world championships have both privileges and responsibilities and that status as WBO champion is subject to and conditioned on compliance with the WBO rules and regulations."
After coming to know of the stance taken by the WBO, Mayweather Promotions CEO Leonard Ellerbe felt it was a "disgrace".
One wonders as to why Mayweather and his team failed to respond within the stipulated time.
The WBO had even gone to the extent of giving Mayweather extra time to come to a decision, as a boxer usually has to decide within 10 days. Mayweather was given around two months, and yet there was no response by the Friday deadline.
"It's a complete disgrace," ESPN quoted Ellerbe as saying.
"Floyd will decide what, or if any, actions he will take. But in the meantime he's enjoying a couple of hundred million he made from his last outing and this has zero impact on anything he does.
"Floyd Mayweather has a great deal of respect for each and every organization, as he has always had in his 19-year career, but he will not be dictated to by any organisation or person as it relates to his decision-making."
Mayweather is expected to fight one last time in September before retiring, but his opponent for the farewell fight has still not been decided.