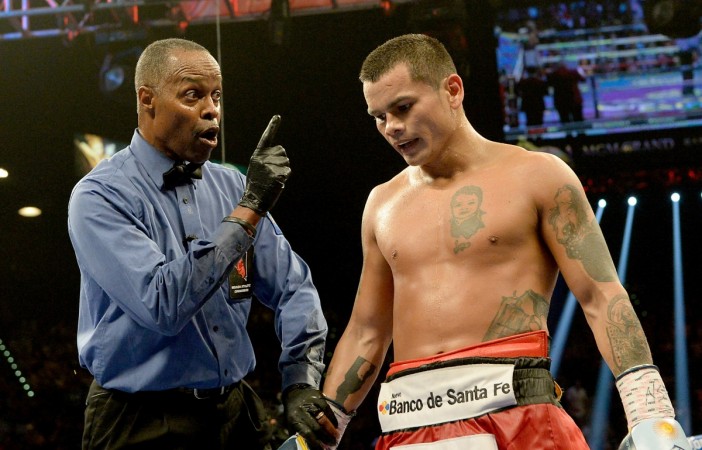 Having refereed bouts such as Floyd Mayweather vs Marcos Maidana, Floyd Mayweather vs Oscar de la Hoya, Manny Pacquiao vs Timothy Bradley and Amir Khan vs Danny Garcia, it is no surprise that Kenny Bayless has been appointed as the referee for the mega bout on 2 May at MGM Grand between Mayweather and Pacquiao.
Bayless, 64, from Las Vegas in one of the most respected boxers of all time and with his experience inside the ring regarding big fights, there can be no better person than the American to handle the fight, which is set to become the richest in boxing history.
Bayless has always had great control over bouts, irrespective of the magnitude of the fight, and the American is expected to take correct decisions in the upcoming bout.
With the American referee having officiated in a number of matches involving "Pac-Man" and "Money", he would be able to handle them better. Bayless has been in charge of many Pacquiao's as well as Mayweather's bout.
Apart from Bayless, other three judges have also been appointed for the bout -- Burt Clements, Dave Moretti, and Glenn Feldman. There were a number of judges to choose from and before making it public, Nevada State Athletic Commission executive director Bob Benett informed both the camps.
"We looked at a litany of judges from around the world and we narrowed it down," Bob Bennett, told the commission when offering his recommendations, reported ESPN.
If the game has to be decided on points with the bout stretching to 12 rounds, it is these three gentlemen, who would be the most important, as their scorecards would determine the winner.
As reported by ESPN, these judges are set to receive $20,000 for their work. Bayless is expected to make $5000 more than the judges.
Now with the judges and the referee announced, boxing fans around the world cannot wait for the bout to take the world by storm on 2 May.