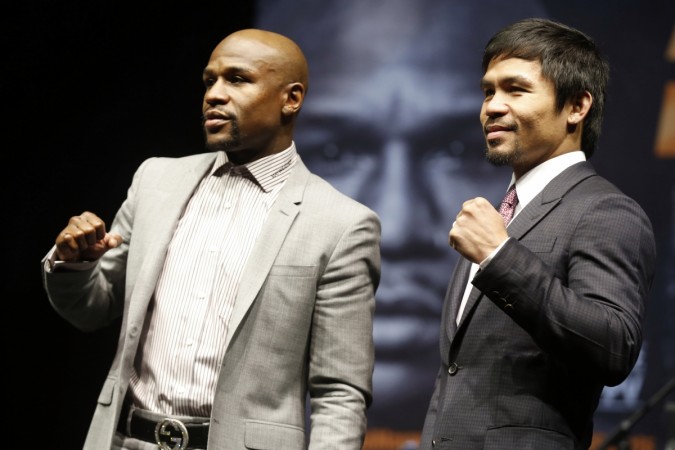 The mega bout between Floyd Mayweather and Manny Pacquiao is just a few days ago and the fight, which is said to be the richest bout in history will witness a 60-40% purse split in favour of the American.
Around $300 million is expected to be made from the fight, which is scheduled for 2 May at MGM Grand.
Several experts were surprised to see pound-for-pound boxer, Pacquiao agreeing to the 60-40% purse split, but the Filipino said the split mattered little, as the fight was agreed by him only for the fans.
"I didn't want 60-40. I did it for the sake of the fans. We know they've been waiting for this fight for five years," LA Times quoted Pacquiao as saying.
The bout was originally expected to be fought some five years ago, but Mayweather and Pacquiao's camp could not come to any sort of agreement then. If the Filipino had not agreed to the various demands that were put forth by by Mayweather's camp, the fight might not have shaped up this time either.
Bob Arum, Pacquiao's promoter, played an important role in the fight eventually getting the go-ahead. Arum stated that Pacquiao wanted the fight to happen and was not worried about the money.
"Manny truly believes money isn't everything, and you can't be cheated when money isn't everything," Arum said.
"He was willing to sacrifice points to make the fight. Simple as that. He wanted the fight."
There are huge expectations from both the boxers, who have been undergoing some serious training with their respective trainers. Apart from the money, there is huge pride at stake for both Pacquiao and Mayweather, considered to be the greatest of their generation.
Though many experts and former boxers might have picked Mayweather to win the bout, the Filipino is expected to pose the biggest threat to the American's unbeaten run.
"I have to make sure I'm in the best condition of my life," said Pacquiao.
"Being an underdog, you're more focused on training, from the first day to the last day. I'm very confident. My training, conditioning; I can feel it. My speed, footwork, punches ... are the things to beat his [defensive] style and win the fight."