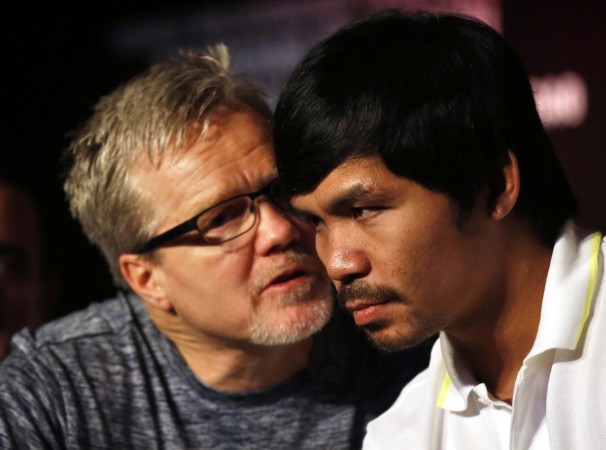 Floyd Mayweather Jr may still be undefeated in his professional career so far with 47 victories, but the American, who is the favourite for the 2 May bout against Manny Pacquiao knows the threat the Filipino possesses.
Pacquiao, who will be eager to hand the American his first defeatm is not perturbed by the underdog tag.
"Any time I am underdog, I like that," BBC quoted "Pac-Man" as saying.
"It means my killer instinct and focus is fully there. Other people are getting nervous for me but I am excited.
"This is the moment I believe he will experience his first loss."
Without a shadow of a doubt, Pacquiao will give it his all in the fight, which was initially expected to be fought some five years ago. The wait is finally over and the two best pound-for-pound boxers will try to retain their supremacy at the MGM Grand in Las Vegas on Saturday.
Despite being an underdog, the Filipino has all the ammunitions in his bag of tricks to shock "favourite" Mayweather. Pacquaio has always been a tremendous fighter inside the ring, where his quickness stands next to none.
It is this swiftness, which the American needs to handle, as the Filipino is capable of landing 100 punches per round if given that space and time.
Pacquiao, along with his trainer, Freddie Roach has been preparing plans to defeat the American.
"We have a very good game plan to win this fight," Roach said. "If a knockout comes, we'll be thrilled.
"At welterweight, Manny's really not that big a puncher. But his speed will overwhelm Floyd, that's what we're counting on.
"It will be very difficult for Floyd to win this fight just by running and at some point he will have to exchange."
The American is said to possess a good counter punch, which the Filipino must be aware of as well. Apart from this, Mayweather tries to keep distance and when his opponent reaches out to land that punch, he looks for that window opportunity to land his own strong riposte, which has floored many opponents in the past.
"We've been working on throwing flurries of punches - because Floyd doesn't throw on the counter until you're done - before getting out of the pocket real quick," added Roach.