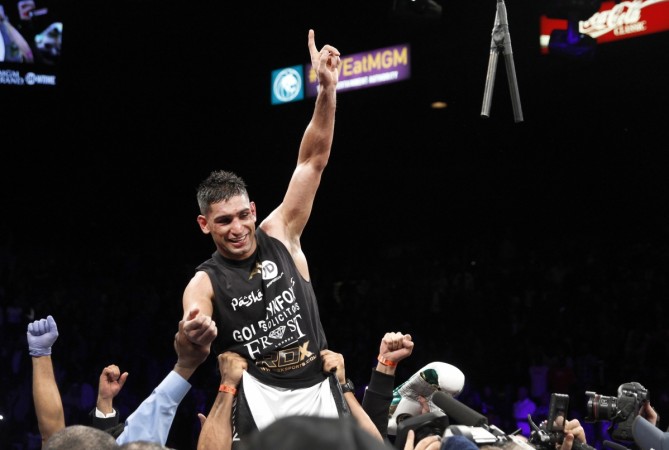 After weeks and weeks of negotiations, Floyd Mayweather vs Manny Pacquiao clash has been agreed upon with both boxers putting pen to paper for the most awaited fight of the century.
But British boxer Amir Khan believes Mayweather chose an "easy route" as he decided to fight Manny Pacquiao.
The Olympic medallist considers that he could have fought either one of them, as discussions had taken place over a possible fight.
"We came very close to securing the fight between both Manny and Mayweather - particularly Manny," Khan told The Sun. "I was in a good position and I could have fought either one of them."
There are many who believe that after Amir Khan's victory against Devon Alexander late last year, he might have even got the ticket to fight the American. Khan's bout against Alexander proved that the British boxer also belonged to the top league, as he defeated Alexander via unanimous decision.
"My strong performance against Devon Alexander has made some of the opponents think twice about taking me on. Mayweather has probably chosen to fight Pacquiao because it's an easier fight."
But during the time, it was also understood Amir Khan would only get a chance to fight Mayweather if Pacquiao fight fails.
"He is taking the easy route but boxing is a business and obviously he is going to do what makes for sense for him financially."
Considering the finance that is going to be involved in the bout between the Filipino and the American, it could be one of the richest sporting events the world has ever seen.
As per the deal, Paquiao has agreed for a 60-40 split in favour of the American, which would mean Mayweather pocketing $120 million, while Pacquiao making $80 million.
Talking about the fight, Amir Khan believes that the fight should have taken place six years ago at their prime.
"It could be tough," Khan added. "The thing is when they were both at their peak - which was six years ago - this fight was talked about then and it should have happened then."
"That's when it would have been a great fight because they were both explosive. They were both at their peak and the fight would have been massive. They both seemed unbeatable back then."
They were expected to fight in 2010, but the deal could not be finalised then and hence the mega bout could not take place.
Though the bout may have come in the latter part of their career, it is still going to considered a mega fight, especially for the things they have achieved in their professional career till date.