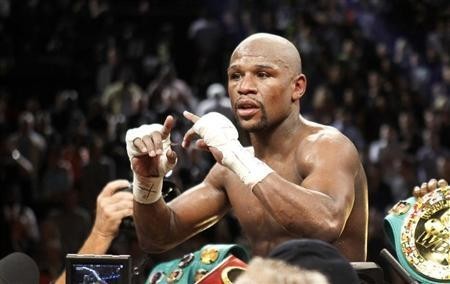 It was a huge sigh of relief for boxing fans around the world (only temporarily) as the much awaited fight between Floyd Mayweather and Manny Pacquiao appeared to be well on track after Pacquiao promoter stated that the issues regarding HBO and Showtime had been resolved.
The problem between the two networks was proving to be one of the obstacles for the bout. They have now agreed, is what Bob Arum, Pacquiao's promoter told AP.
However, that does not seem to be true after Showtime Sports executive Stephen Espinoza told USA Today: "There are still a few significant issues on the network side and the fighters' side.
"While we're optimistic, it's still premature to say the network deal is done."
This has only brought in a lot of confusion about the real truth. Where have the negotiations really stalled or failed?
Even, Dan Rafael of ESPN stated on his Twitter account that the TV deal for the Mayweather -Pacquiao bout has not been finalised.
BOTH networks have told me in the past half hour that, no, they DO NOT have #MayweatherPacquiao broadcast deal, regardless of Arum comments.

— Dan Rafael (@danrafaelespn) February 5, 2015
Boxing fans around the world are keen to witness the two greats, Mayweather and Pacquiao go head to head against one another for a fight, which has been scheduled for 2 May, 2015.
It was what Bob Arum told AP, which got the whole boxing fraternity excited. "We had four issues and we resolved two," Bob Arum told AP.
"Now we're working on resolving the other two. Unless something else comes up at the last minute, that's what my take is."
While Arum did not divulge any details as to what the other two issues were, there seems to be more than what meets the eye. It is Pacquiao's camp that has been doing most of the talking, while Mayweather's adviser Al Haymon has hardly spoken to the media, which might lead people to believe that Pacquiao is more than eager to fight Mayweather.
To add fuel to fire, Pacquiao has even stated that Mayweather is afraid of him.
Pacquiao is said to have accepted all the demands that have been put forward by Mayweather's team, which includes drug testing as per Mayweather's choice of USADA, 60-40 financial split favouring the American and also the brand of gloves to be used.
The bout, which has been termed as the fight of the century, has been witnessing lots of twists and turns, which is receiving a lot of publicity on social media, but such things would be fruitless if the mega event does not shape up.