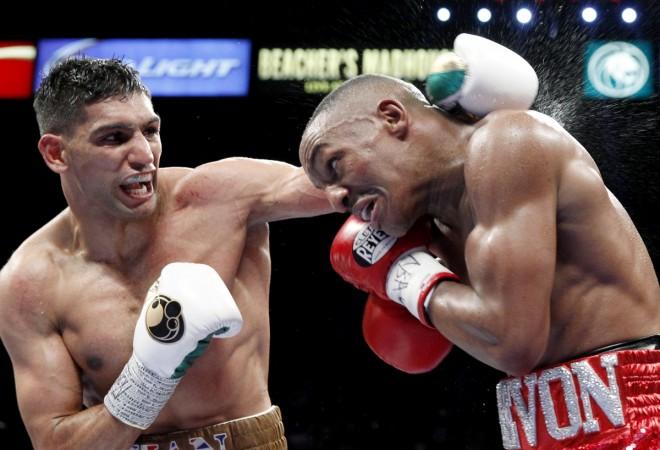 The fight between Floyd Mayweather and Manny Pacquiao has been the talk of the town and people involved in the sports of boxing have already started picking their favourites.
While some are rooting for the Filipino, some are taking the American's side, but one thing is for sure that the bout, which has been billed as the fight of the century will be a cracker, as both the trainers have already started their training.
The fight was expected to take shape around 5 years ago, but it could not see the light of the day then.
British professional boxer, Amir Khan feels that the fight could have been better, if it was fought earlier when they were at their peak.
"It's going to be a great fight and I think five years ago it would have been ever better because they were both at their peak and it was a fight that everyone was dying to see," Khan told Sky Sports News HQ.
Athens Olympics Silver medallist, Khan talked about Pacquiao's losses and considers Mayweather to take the fight. He also feels that the American will pick his shots a little better.
"Since then Manny Pacquiao has had two defeats. He's been knocked out once by (Juan Manuel) Marquez and then he got beat by (Timothy) Bradley which was a little controversial, but I think Mayweather will take the fight."
"He will be much smarter and he'll pick his shots a little bit better. He'll make it a little boring at times because Manny, as we know, is a come-forward fighter who likes to do a lot of punches."
The world is aware of Pacquiao's speed and aggression inside the ring, which is parallel to none. He throws a lot of punches, but that could be really entertaining as Mayweather too is said to possess a very strong defense.
If Pacquiao wants to become the first person to defeat Mayweather, he needs to find a way to shatter the American's defense. Not only his defense, but Mayweather also bags a huge punch that is evident from the 26 times he has floored his opponents.
"But Mayweather will try to avoid all those punches and just maybe throw that one shot that will count and then move away again. But time will tell."
People all around the world are eagerly waiting for the 2 May fight at MGM Grand in Las Vegas, expecting a bout to be remembered for life.