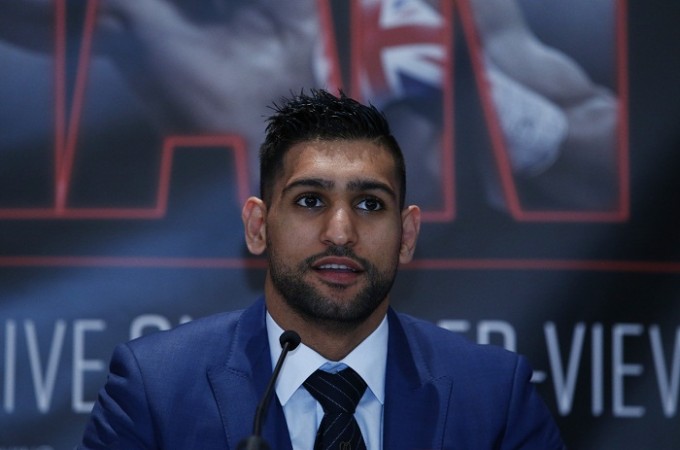 Amir Khan's bout against Saul 'Canelo' Alvarez for the WBC middleweight title at the T-Mobile Arena in Las Vegas on May 7 has been bagging the headlines, as it is a widely anticipated fight of the year. Khan is the underdog for the bout, and has been involved in some intensive training under trainer Virgil Hunter to prepare for the mega fight.
The British boxer is giving it all during the training sessions, fighting different sparring partners, to remain in perfect shape, and defeat Alvarez. Khan has tried to fight some huge names in the past, but to no avail, and he finally managed to set up a date with the powerful Mexican. Khan believes defeating Alvarez can help him become the best pound-for-pound fighter in the world.
"This is a massive fight, fighting Canelo. He is a big name around the world. Beating Canelo will definitely take me back to the top where I want to be," Sky Sports quoted Khan as saying.
"I've always dreamed of being one of the best pound-for-pound fighters in the world, and I think by beating Canelo that will definitely get me there. That is why I took this fight."
Despite being the second favourite for the fight, Khan has some plans in place to beat Alvarez. Alvarez has a huge advantage over Khan when it comes to power, but Khan wants to use his speed to win the title.
"We are going to have to use the right game plan towards what Canelo will bring in the ring that day. We will have to be very focused in this fight. What beats Canelo in my eyes is speed, and movement, skill and boxing IQ, so that's what we are going to be using," Khan said.
With Hunter in his side, Khan believes he has been pushed to the limit during the training sessions. Hunter has been working closely with Khan in order to improve the British boxer's skills.
"Strength conditioning, the boxing and sparring have been different. I'm being pushed to the limit every time. I've trained very hard this time and I'm going to go into the fight very strong. This is probably my fifth fight under Virgil. We're getting to know each other even better. He knows what to improve on. He knows how to work me. We are bonding better now than ever," Khan said.