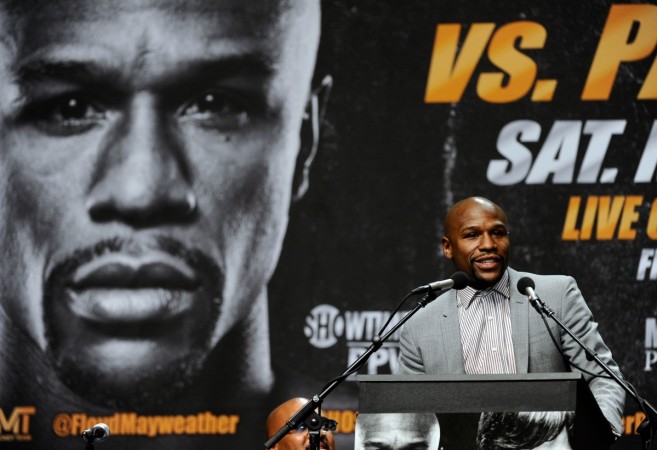 Americans love their sport, be it basketball, baseball, soccer, ice hockey or boxing. And, boxing fans are extremely excited about the fight of the century, between American Floyd Mayweather and Filipino Manny Pacquiao, which is scheduled to take place on 2 May, at MGM Grand in Las Vegas.
Bob Arum, the Filipino's promoter, stated that most Americans are supporting Pacquiao for the bout.
"If Pacquiao wins, it's a significant victory for Filipinos and lot of people in the US," Arum told Sky Sports News HQ.
"Most Americans you would think would be rooting for Mayweather, but the contrast is true. The majority of the American population is rooting for Manny."
If this is the case, one cannot understand as to why the locals choose the Filipino. Is it because of the lavish lifestyle of the American, which has spurred the locals to go against him? Or, is it the Filipino's dedication to his Christian beliefs?
Mayweather is one of the richest sportspersons in the world and has flaunted his wealth by showing off his cars and jet.
However, Pacquiao's lifestyle is in contrast to Mayweather's, as the Filipino is more into charity.
"He (Mayweather) talks about how much money he makes and the cars he drives. Manny Pacquiao is dedicated to his Christian beliefs, all he's accomplished is based on the will of God."
"He feels a tremendous obligation to give back and engage in charitable endeavours. People are picking up on the contrasts between the two young men."
The fight is expected to be an entertaining one, where it is very difficult to choose an outright favourite. Some of former boxers and critics have picked Mayweather as their favourite, while some sided with Pacquiao.
Both the boxers have an impressive record in their illustrious career. The American has not lost a single fight in his professional career, which includes 26 knockout blows in his 47 bouts; while his opponent, Pacquiao has lost five bouts so far. He has floored 38 boxers inside the ring in his 64 fights, with two draws as well.
Both are involved in some serious training at present so as to remain in perfect shape for the 2 May bout. They are also training with their respective sparring partners, which could help them counter one another's defense and punches.