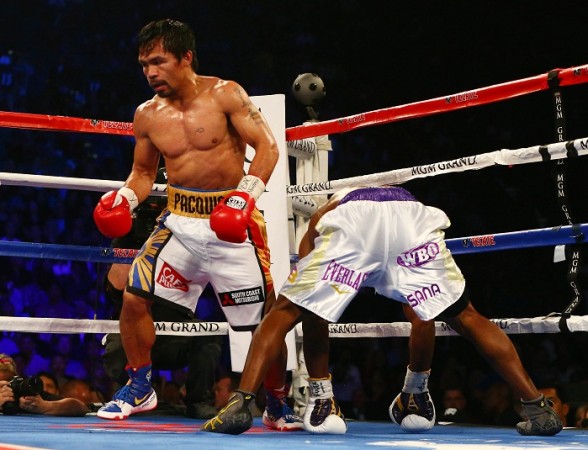 Bob Arum played an important role in forcing Manny Pacquiao to come out of retirement, and the promoter has some big plans ahead for the Filipino, one of them being a possible fight against Gennady Golovkin. As of now, Pacquiao has to focus on his November 5 bout against Jessie Vargas, which is expected to be a quality contest.
Pacquiao quit the sport after defeating Timoth Bradley in April 2016, and joined politics in the Philippines. He was also elected as a senator, which gave him more political responsibilities. But Arum, somehow, cajoled the boxer to come out of retirement.
Pacquiao's future is not yet precisely known after the November fight, where he is looked upon as favourite. His immediate future might also depend on the result of his upcoming fight against Vargas, for which he has been involved in some serious training.
The Filipino boxer has an incredible record inside the boxing ring since his first fight in 1995. In the 21 years in the boxing ring, he was involved in 66 fights, and emerged victorious in 58 bouts, losing six and two draws. He dominated the boxing ring with his brilliant hand-eye speed, and is considered to be one of the most swift boxers.
If Pacquiao manages to bring back those golden years in his fight against Vargas, and shines during the contest, Arum will eye Golovkin, who has not yet tasted defeat since turning pro. However, the promoter also suggested that if Pacquiao fails to juggle his senatorial duties and boxing, he should not continue with it.
"If Manny comes in and dominates this fight and looks like the old Manny, and wants to continue fighting, there will be certain opponents that will be considered. If he decides that it's too much juggling two careers then he shouldn't continue. If he is determined to continue and his performance suffers because of his work in the Senate I would have to look in the direction of somebody else for an opponent," boxingnewsonline.net quoted Arum as saying.
"So to jump now about names and so forth, who knows? Manny may look so good in this fight and may have such senatorial presence in the fight that we may be looking for Golovkin next."