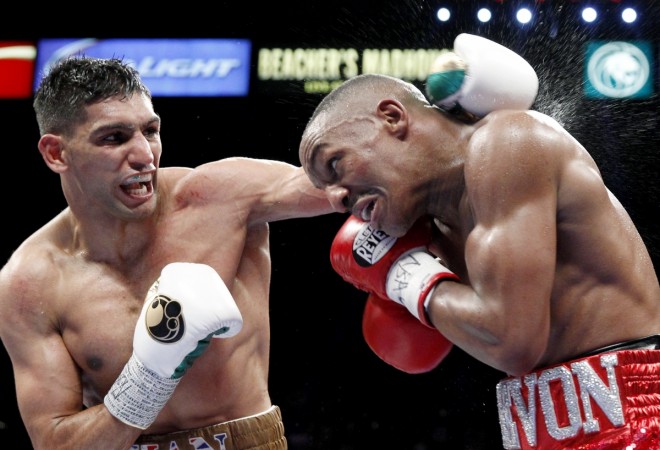 Floyd Mayweather wants to fight one last time before he decides to hang up his gloves in September this year. After he defeated Manny Pacquiao with his defensive masterclass showing at MGM Grand in Las Vegas, the question on everyone's lips is – who's next?
One of the favourites to fight Mayweather is British boxer Amir Khan, who is also a two-time light-welterweight world champion. The boxer may soon get a chance to fight the highest paid sportsperson on the planet.
"I think the fight is there," Khan told BBC Radio Five. "I spoke to Len Ellerbe, his manager, I saw him in the media room and he came over to say 'hi...he's ready when you are'.
But it seems that both Pacquiao and Mayweather's camp are eager to fight the British champ. If an option would come to Khan, it would not be a huge surprise if Khan chooses to fight the American over the Filipino.
"I think Mayweather's team are wanting the fight. But then - on the other hand - I've even spoken to Manny's team and they said the same thing. (They said), 'Look Amir, I think it'd be good to have the fight between you and Manny next," added Khan.
"So, I'm in a position where I could fight either guy but I think Mayweather's the one I want, because I really believe I have his number."
The 2004 Athens Olympics Silver medallist is 10 years younger and relatively less experienced compared to the American, who has defeated some of the greatest boxers of the current generation.
With a record standing at 48-0, the American would be a favourite, especially after the way he defeated Pacquiao with his defensive game. The British boxer also has an impressive record with 30 wins in 33 bouts with 19 knockouts.
But Mayweather is on a league of his own, due to which if the bout does turn true, Amir Khan needs to come up with his A+ game, else it could be a night to forget for the silver medallist.