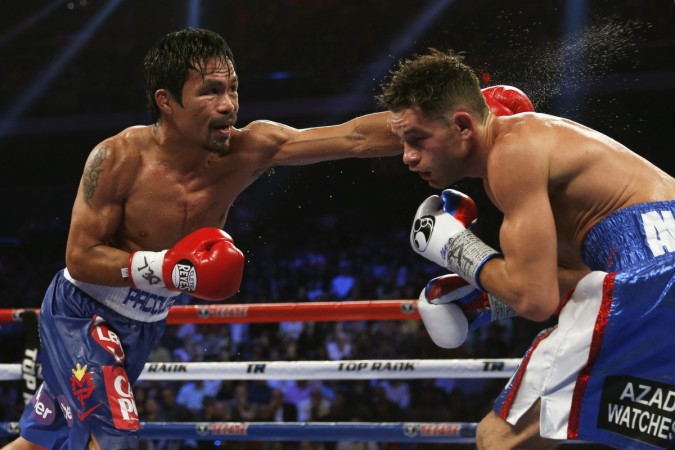 In the build up to the mega fight on 2 May, boxing fans have been asking one question - will Manny Pacquaio end Floyd Mayweather's unbeaten run? The American has had an impressive career so far with 47 wins, but the Filipino will be his biggest test. Will 'Money' surpass it?
Many boxers and experts have sided with Mayweather, hence Pacquiao is an underdog, but an underdog, who can make life miserable for the American at MGM Grand in Las Vegas. Not only do people involved in Mayweather's camp know about the threat, but also experts, who have touted Mayweather as favoutite.
There are a number of reasons for Mayweather to fear for his first defeat. Here are some reasons, why the Filipino might defeat the American.
Body Shots
With the eight-division world champion, 'Pacquiao' known for his fast hands, he is surely going to be the aggressor against defensive genius 'Mayweather.' The Filipino will always prefer to punch Mayeather on his face, which might be a tough proposition considering the American's defensive capabilities. But this opens up a chance to attack Mayweather's body that might not knock him down, but will make Money energy-less.
Pacquiao's weapon – Left Hand
Bob Arum, Pacquiao's promoter had stated in the recent past that the American is afraid of fighting left handed boxers and if that is the case, Pacquiao will have his hands full as he possesses a potent left hand, capable of flooring Mayweather. Money has primarily fought with orthodox fighters, but very rarely against a southpaw boxer that too of a quality like Pacquiao. Can Mayweather withstand Pacquiao's left-hand straight punch?
Make no mistake; Pac-Man is no slouch when it comes to his right hand as well.
Pacquiao's Speed
There is no boxer who moves inside the ring as quickly as Pacquiao does. He moves from one corner to the other in a matter of seconds. Compare this speed with Mayweather's movement inside the ring, which has gradually become slower, the Filipino will surely have an upper hand.
Array of Punches
There have been instances when Manny Pacquiao has thrown in a barrage of punches to his opponent with fast hands in the past and his rivals have been caught napping. There is no reason why the Filipino will stop adopting the same ploy, as Pac-Man can throw around 100 punches per round if given that space and time.
Freddie Roach
The Hall of Fame trainer is arguably the best boxing trainer the world has seen. For over the two months, the boxer has been receiving some serious training under the watchful eyes of Roach. The trainer has studied Mayweather's tapes and one can expect Roach to unearth some loopholes in his fighting style, which might be taken advantage of by the Filipino. With Roach at one corner, Filipino can receive some useful inputs during breaks as well.