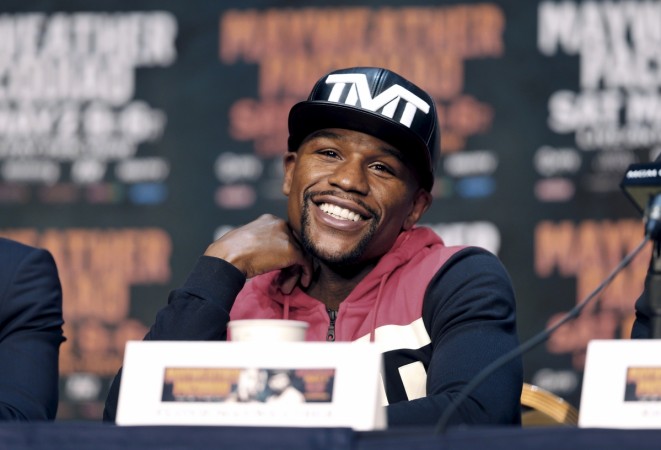 Boxers such as Chris Algieri, Nigel Benn, Keith Thurman, Sugar Ray Leonard and Lennox Lewis favour 'Money' to clinch the mega bout when Flod Mayweather takes on Manny Pacquiao on 2 May at the MGM Grand.
When such boxers pick Mayweather, there should be good reasons. The American has all the ammunitions in his bag of tricks to maintain his unbeaten run.
Let's look at the reasons, which make one believe that the American will stamp his authority over Pacquiao inside the boxing ring on Saturday night.
Record against top boxers
Floyd Mayweather has not lost a single bout in his professional career; his 47 wins reflect his dominance inside the ring. He has fought tough boxers such as Oscar de La Hoya, Saul Alvarez, Marcos Maidana, Miguel Cotto and Victor Ortiz, and has prevailed every time. He might not have dominated all the bouts, but his winning habit has always helped him cross the finishing line.
Best defense and counter punch
The American is said to possess one of the best defence in the world of boxing. Very few boxers have been able to get past his defence and those who have, still failed to win their bout. The boxer tries to maintain a good distance from his opponent to make it difficult for the opponent to strike, and in the process gets a chance to thrown in his counter punch when attacked.
Power
Though experts consider the American to be past his prime and also slower with his reflexes, Mayweather is agile. When he gets a chance to punch his opponent, he goes full tilt and more often than not, gets a clean shot, thus flooring the opponent. His punch still bags enough power to knock out Pacquiao. And if Mayweather lands his elusive right hook, Paquiao might not be able to recover.
MGM Grand – His Home
The venue for the prestigious fight can be termed as his second home, as Mayweather has fought his last 10 bouts inside the MGM Grand and made life miserable for his opponents. In all, he has fought inside the MGM Grand 13 times and therefore, knows the arena like no one else.
Mayweather's reach
Floyd Mayweather will have an added advantage over the Filipino, who is smaller in size and shorter in height, giving the American a greater reach. With Mayweather weighing more, his punches and jabs are going to be very strong for Paquiao to handle.