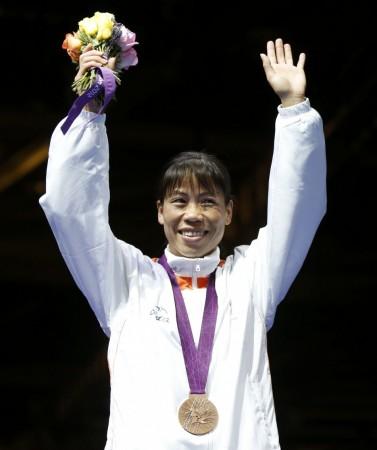 Ace director of films like "Black" and "Saawariya", Sanjay Leela Bhansali recently announced that he is producing a film on the life of Olympic medalist and five-time World Boxing Champion MC Mary Kom.
The film will be a biopic of the Indian woman boxer and her journey to the Summer Games.
Though the filmmakers are juggling to find an actor who can do justice to her role, the 29-year-old boxer wishes to play a part in her biopic.
"Yes. Ideally, I want to be in the opening sequence of the film, just like the old lady in Titanic (1997) who narrates her life story," she told the Hindustan Times. "As for the rest, Sanjay sir and Omang sir will know better."
Extremely overwhelmed and surprised by the initiative to make a film on her, she said, "I didn't know I could make such an impact! Being born and raised in a place that has been constantly neglected, I appreciate this gesture."
"A film on my life by a filmmaker like Sanjay sir gives me goosebumps," she said. "I've worked hard in the last 11 years, but not many people had heard my name. Now I will be imprinted in people's minds."
Having said that the film will be a proper Bollywood film and Kom has no issues with it. "I'm fine with it. Essentially, the journey of everyone's life is the same, but the degree of having to combat with it varies," she said, asserting that "Isn't life all about aspiration, struggle, relationships, rivalry, failure, triumph and achievement?"
"My life isn't extraordinary, because this is the only way I know it to be. So as long as Sanjay sir and Omung sir keep the essence of my life intact, I'll be happy. If they want to have songs and dances, I'm cool with that," she told the daily.
The film is said to be a rare experimental project of the award-winning director, who is known for delivering several unconventional yet successful films in his career. The film also marks the directorial debut for art director Omang Kumar.