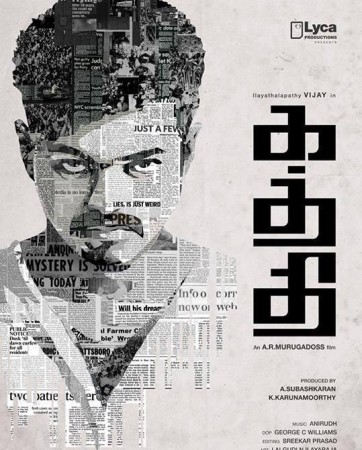 Diwali 2014 releases "Kaththi", "Happy New Year" and "Poojai" are performing well at the overseas box office, despite facing competition from each other.
Although "Happy New Year" is dominating on more number of screens in key overseas markets, the Tamil releases have also managed to hold themselves well at the box office.
Let's see how these films have performed in the US, the UK, Australia and Malaysia, which are key markets for Indian films.
Malaysia
Malaysia is a major forte for Tamil films as Tamil nationals constitute the largest percentage among the Indian minority in the country. Even big Hindi films get lesser number of screens, owing to the limited audience, compared to Tamil films.
Recently released "Kaththi" is rocking the Malaysian box office with its exceptional performance. The Vijay starrer has minted Malaysian Ringitt 1,767,970 (₹3.30 crore) in its opening weekend at the country's box office, according to Bollywood Hungama.
The film has taken the number one spot, ahead of other Indian releases like "Poojai" (Tamil) and "Happy New Year" (Hindi). The Vijay starrer has even pushed down Hollywood films and topped the weekend (23-26 October) at the Malaysian box office.
"Kaththi" is dominating over Vishal's "Poojai" and Shah Rukh Khan's "Happy New Year", which have earned MYR 568,811 (from 25 screens) and MYR 147,898 (from 13 screens) respectively. The film is expected to continue its good run at the box office and earn more.
Other markets
While "Kaththi" has managed to outperform "Poojai" in the other key overseas markets as well, the film could not stand a chance against "Happy New Year", in regions like the US, the UK and Australia, where the Shah Rukh starrer is dominating in more number of screens and registering fantastic collections.
US
"Happy New Year" has raked in 1,710,749 from 255 screens (₹10.47 crore) in its first weekend in the US. "Kaththi" was released in less than half of the screens allotted for "Happy New Year". The Vijay starrer, which hit the screens a few days ahead of "Happy New Year", grossed $559,579 from 86 screens (₹3.42 crore) in six days (from 21 to 26 October). Meanwhile, "Poojai" earned $6,125 from 15 screens (₹3.75 lakh) [Note some screens yet to report].
UK
"Happy New Year" minted £568,183 (₹5.59 crore) from 100 screens, "Kaththi" has fetched £222,581 from 56 screens (₹2.19 crore) and "Poojai" has got £8,571 from five screens (₹8.43 lakh) in their opening weekend at the UK and Ireland box office.
"Kaththi" has now surpassed Hindi film "Finding Fanny" collections, which amount to 195,826 at the end of the seventh weekend.
Australia
"Kaththi" has earned A$160,979 (₹86.81 lakh), while "Poojai" has got A$16,968 (₹9.15 lakh) and "Happy New Year" has earned A$380,115 (₹2.05 crore) from the island continent.