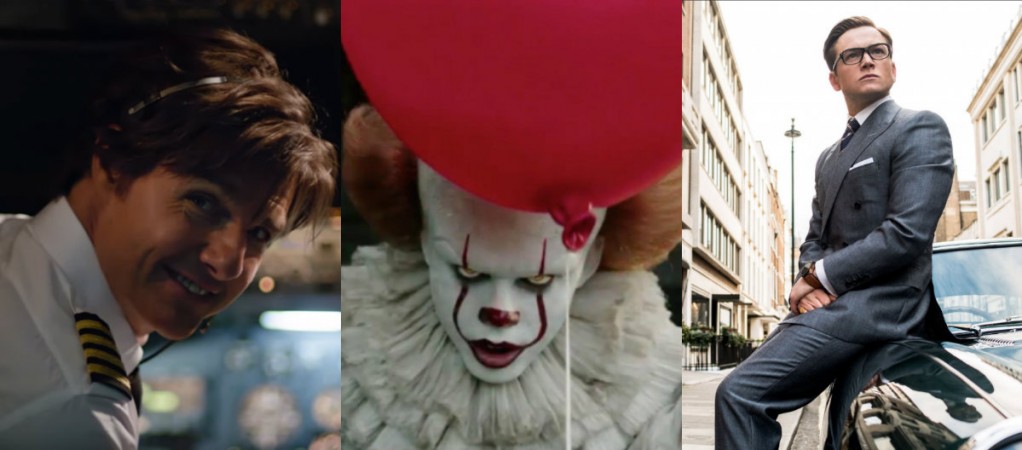 What a nail-biting weekend! Film analysts had a crazy time tracking the earnings this weekend as three big budget movies were running neck-to-neck for the top spot. All three movies earned an estimate of $17 million.
While the actual numbers are yet to arrive to determine who is taking the hot spot this weekend, Box Office Mojo declares 'It' has beaten Tom Cruise's American Made in the race with merely $300,000 difference.
Also Read: Worldwide box office collection: It breaks The Exorcist record; surpasses half a billion dollar mark globally
Horror movie 'It' is into its fourth weekend and earning the jaw-dropping amount considering it is completing a month at the box office has impressed not only movie goers but also trade analysts. Forbes notes that the horror movie had a reasonably small drop at the market and earned an impressive $17 million.
The weekend's collection brings Andy Muschietti's horror blockbuster to a mind blowing $291.2 million collections in the US. The global tally stands at $553.1 million, Box Office Mojo reveals.
Finding the second spot in the opening weekend, Tom Cruise's magic worked again in American Made. Soaring like Barry Seal in the movie, the Doug Liman had a remarkable opening considering the competition it was put up against. While domestically it earned $17 million, Cruise's fan base made sure that the film has an amazing international debut.
Cruise began flying early in the international market as American Made opened in many markets starting late August. Currently, the film has grossed $64.7 million including $3.8 million this weekend, Box Office Mojo notes. The film is yet to open in Russia, Ukraine Japan and Argentina.
Settling for the third spot, Kingsman: The Golden Circle also brought in $17 million domestically accumulating the domestic box office collections at $66.7 million. However, Deadline notes that the comic book adaptation movie earned higher internationally. Owing to the Korean $16.1 million debut, Kingsman 2 witnessed the biggest opening for an 18+ rated movie in the country.
The opening weekend collections from there contributed to the $50.5 million collection internationally for Matthew Vaughn-directed sequel. The overseas collections for Kingsman 2 now stand at $126.2 million worldwide. The total collection stands at $192.9 million. Trade analysts believe the movie will surpass $200 million this week.
There were other movies that released this weekend, including Flatliners, The LEGO Ninjago Movie and The Battle of the Sexes. Considered as a bad remake of the 1980s movie, Flatliners earned $6.7 million domestically and $3.1 million internationally, Collider reveals. Reviewed as the worst LEGO movie, The LEGO Ninjago Movie earned $12 million domestically and The Battle of the Sexes only earned $3.4 million.