"Rajini Murugan" is a clear winner among the Pongal releases at the box office. Sivakarthikeyan's film has performed a lot better than Vishal Krishna's "Kathakali", Udhayanidhi Stalin's "Gethu" and Sasikumar starrer "Tharai Thappattai".
Just in: : The first weekend box office report of 'Rajini Murugan', 'Kathakali', 'Gethu', 'Tharai Thappattai'
Trade tracker Sreedhar Pillai has announced the news on Twitter. he posted," #Pongal Box-Office - @Siva_Kartikeyan's #RajiniMurugan has emerged as the clear winner by a mile. It's attracting festival family audiences."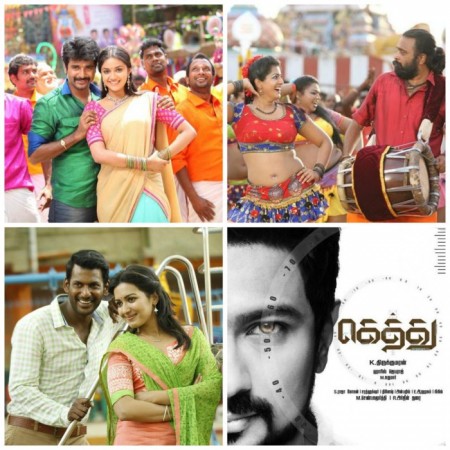 Another tracker Ramesh confirmed the same; he posted, "Trade has declared @Siva_Kartikeyan 's #RajiniMurugan Tamil Movie Industry's FIRST BLOCKBUSTER OF 2016."
"Rajini Murugan" has got unanimous positive reviews from the audience even though some critics found it to be an average story. They pointed out that the presence of Sivakarthikeyan in the cast has made a huge difference to the flick.
After having a fantastic opening, "Rajini Murugan" performed well on its second day, Friday, 15 January. It seems like the cricket match between India vs Australia did not affect the Tamil movie much as the audience thronged to the theatres. The family audience turnout was especially high in the evening shows. The early reports say that the flick has grossed above Rs 11.5 crore in two days. Please note that this is a predicted number and the actual figure will be different.
On the other end, "Kathakali", "Gethu" and "Tharai Thappattai" had a decent day at the collection centres. Each film managed to rake in above Rs 6 crore in two days.
The good word-of-mouth for "Rajini Murugan" is expected to do wonders in the coming days. "Kathakali" is also predicted to improve its business, given the high positive reviews that the film garnered from the critics.
In the US box office too, the story remains the same as "Rajini Murugan" has done good business with "Thara Thappatai" making decent collections while "Kathakali" and "Gethu" struggled to pull the audience in big numbers. A tweet from TamilBoxOffice1 gives the clear picture of the response.
Thu Box-Office US #RajiniMurugan $7,484 #TharaiThappattai $2,225 #Kathakali $865 #Gethu $142 #PongalReleases

— TamilBoxOffice1.com (@TamilBoxOffice1) January 15, 2016