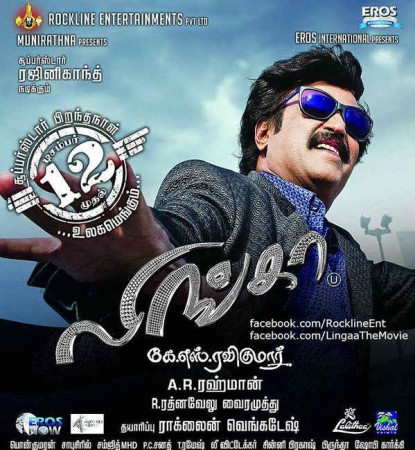 Rajinikanth-starrer "Lingaa" is still dominating the Chennai box office in its second week despite new releases including "Pisaasu" and "PK."
"Lingaa" witnessed average theatre occupancy of 85% during the second weekend and the film minted ₹5.34 crore in 10 days at the Chennai box office, reported Behindwoods. Despite mixed reviews, "Lingaa" has done fantastic business in the city. But, the coming weeks will be crucial for the film and based on its performance its box office status will be determined.
With Christmas holidays nearing, "Lingaa" business is expected to pick up. However, there are a string of Tamil films including Arya's "Meaghamann," Vikram Prabhu's "Vellakara Durai," Vaibhav's "Kappal" and Prabhu Solomon's "Kayal" planned for Christmas release. The release of these films is likely to reduce the screen count for "Lingaa." One needs to wait and watch as to how the film fares in the coming days.
Pisaasu
Mysskin's "Pisaasu" has taken a good opening at the Chennai box office. The film witnessed average theatre occupancy of 85% and fetched ₹39.37 lakh in the first weekend.
"Pisaasu" has received positive reviews from the critics and the audience also seems to have liked the film. The film's business was not affected by biggies like "Lingaa" and "PK." It took off on a good note in the first weekend and is expected to continue its decent run till the end of the first week, after which it might face huge competition from Christmas releases.
It needs to be seen if "Pisaasu" will turn out to be a profitable venture.
PK
Aamir Khan's "PK" kicked off on a fantastic note in Chennai. Particularly, the film is doing well in multiplexes. Positive word of mouth is likely to help the film to perform well in the coming days. Aamir's "Dhoom 3" was a hit in the city and it will be interesting to see if "PK" also follows suit.
Sutrula
Newly-released film "Sutrula" has taken a poor opening at the Chennai box office. It fetched ₹2.18 lakh in the first weekend. With big releases like "Lingaa" and "PK" dominating the screens, it has been tough for "Sutrula" to grab enough number of screens and register decent collections. Poor reviews are likely to affect the film's business further and there is not much hope in terms of collections.
Chennai Box Office- Top Five Films-19 to 21 December (According to Sify)
Lingaa- Decent Run in Second Week
Pisaasu- Good Opening
PK- Fantastic Opening
The Hobbit : The Battle Of The Five Armies- Strong in Second Week
Penguins of Madagascar -3: Hit