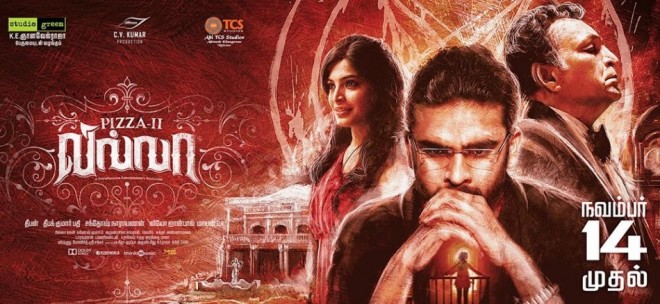 Here is the box office report of "Irandam Ulagam" and "Pizza 2: Villa."
Irandam Ulagam
Arya-Anushka's "Irandam Ulagam" has witnessed a significant drop in collections at the Indian box office.
The fantasy thriller, which released on 22 November, has reportedly grossed ₹8.15 crore in five days at the Tamil Nadu box office. The film opened to a good start on the first day of its release. Despite carrying a negative buzz, "Irandam Ulagam" managed to rake in decent collections in its opening weekend.
However, the film's collections started to decline from Monday (25 November). According to Andhraboxoffice, "Irandam Ulagam" earned ₹75 lakh on Monday and ₹60 lakh on Tuesday. Its earnings are likely to drop further in the coming days due to new releases.
At least five Tamil films are releasing this Friday (29 November) which includes "Jannal Oram", "Naveena Saraswati Sabadam", "Vidiyum Mun", "Appavin Kalyanam" and "Ennachu."
According to entertainment industry tracker Sreedhar Pillai, multiplexes in Chennai are shifting "Irandam Ulagam" to smaller screens in a bid to accommodate new releases. It remains to be seen how the Arya starrer fares while facing strong competition from the new films.
Overseas Markets
"Irandam Ulagam" has grossed ₹19.28 lakh in its opening weekend at the UK-Ireland box office, reported Bollywood Hungama.
Thanks to positive pre-release buzz, the film managed to get decent collections in its first weekend, despite several new releases from other languages.
But, the film's collections are expected to go down in the coming days owing to negative word of mouth.
Pizza 2: Villa
"Pizza 2: Villa" has done average business at the Tamil Nadu box office. The film, which released on 14 November, grossed approximately ₹3.65 crore in eight days.
The release of "Irandam Ulagam" and other language films has affected "Pizza 2: Villa" collections.
The suspense thriller, which is the second installment in the "Pizza" franchise, grossed ₹6.01 lakh at the end of the second weekend in UK. The film's collections will decline further when new films hit the screens.