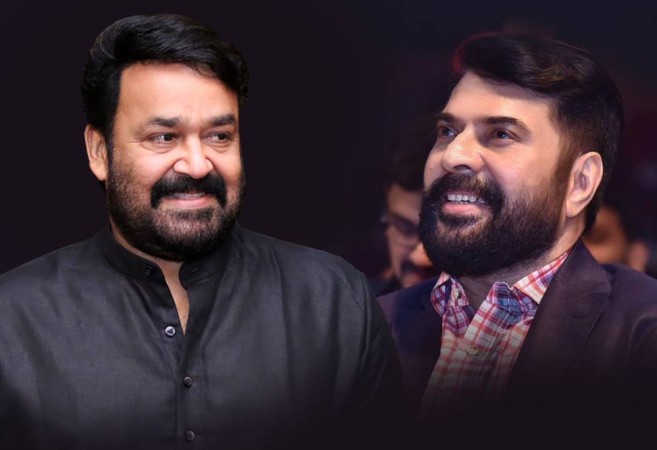 Megastar Mammootty on November 1 unveiled the first-look poster of his next film, based on the life of Kunjali Marakkar IV, to be directed by Santosh Sivan.
However, rumour mills suggest that Priyadarshan's next with superstar Mohanlal is also based on the life of naval chief of Zamorin (Samoothiri).
Read more: Mammootty's Kunjali Marakkar IV announced
The hitmaker has reportedly confirmed he is making a big-budget entertainer with Mohanlal on the Muslim marine merchants responsible for protecting the Indian coast against the Portuguese during the 16th century.
If the news on Mohanlal portraying the role of Kunjali Marakkar turns out to be true, this will be the first time the two biggies of Mollywood play the same character on screen.
Fans of the actors are eagerly waiting to see who will be the better Kunjali Marakkar.
It has to be noted that there are four key Kunjali Marakkars in history and Mammootty will be seen as the fourth one — Mohammed Ali — in his upcoming movie.
Mohanlal is expected to get into the shoes of Kutti Ahmed Ali, Kutti Pokker Ali or Pattu Kunhali, the other three Kunjali Marakkars.
Both Santosh Sivan and Priyadarshan have been working on their respective projects for quite some time now.
However, since Mammootty and Mohanlal have many movies lined up, it is not clear when they will start shooting for their upcoming films on Kunjali Marakkar.
Mammootty is currently awaiting the release of Masterpiece, which is expected to hit the theatres in November. He has a handful of projects including Street Lights, Uncle and Maamaankam lined up.
Meanwhile, Mohanlal is busy with the shooting of VA Shrikumar Menon's Odiyan. The superstar has also announced his next untitled project, to be directed by Ajoy Varma, and will also be seen playing the mythological character Bheem in the mega budget Rs 1,000 crore project Mahabharata, based on MT Vasudevan Nair's novel Randamoozham.
Here's the first-look poster of Mammootty's Kunjali Marakkar IV: