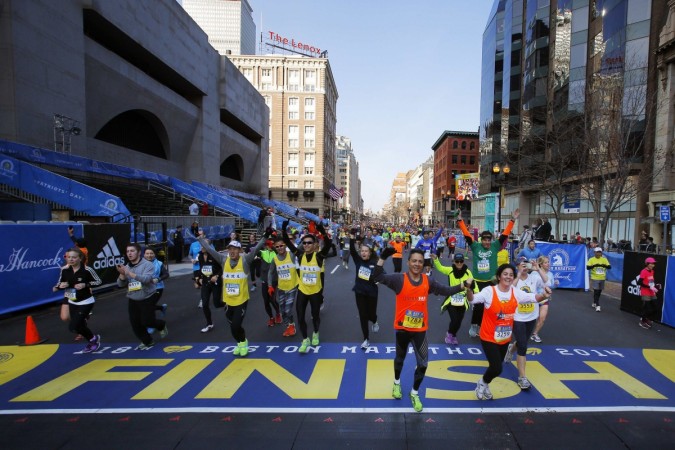 As the world gears up for the 119th running of the Boston Marathon, don't be disheartened if you can't travel to Boston on Monday as you can get all live updates online.
If you can't participate, you can at least watch it live online. There are several live streaming sources who will be broadcasting the entire event.
If your close family member or friends are participating in the Boston Marathon 2015, you can closely track the status through Twitter @BostonMarathon or get email or text alerts here.
The Boston Athletic Association website will have live updates on all runners participating in its 2015 Boston race.
The Boston Globe will have also have live blog for the marathon, you also get all live Updates of the Boston race here.
Boston Marathon Start Timing: The race will start at 8:50am EDT, with mobility-impaired racers taking the lead.
Those in wheelchairs and handcycles will then start moving at 9:17am and 9:22 am, respectively.
Elite female runners start at 9:30am, followed by elite men and the first wave of runners at 10am.
About 30,000 runners in all will are expected to participate in the 2015 Boston marathon.
Comprehensive Boston Marthon Schedule
Time (ET) Event

8:50 a.m. Mobility Impaired Start
9:17 a.m. Push-Rim Wheelchair Start
9:22 a.m. Handcycle Start
9:32 a.m. Elite Women's Start
10 a.m. Elite Men's and Wave One Start
10:25 a.m. Wave Two Start
10:50 a.m. Wave Three Start
11:15 a.m. Wave Four Start
6:30 p.m. Boston Marathon Official Post Race Party
Live streaming Information: The livestream of the Boston race, will be available online via the Boston Athletic Association. The race can be watched on iPhone or another Apple devices as well. BAA also will be providing live updates of the entire race for android devices as well. You can also watch the live stream on Rhinobird.
Best Viewing Spots in Boston: The marathon starts from the suburb of Hopkinton, Massachusetts, and ends in Boston at the Boylston Street. Some of the best viewing spots on the way include Commonwealth Avenue in Newton, Hopkinton and Wellesley's Hunnewell Park, which reportedly offers a great view of the race.
Watch it on TV: The entire Boston marathon will also be covered by several Television channels. Universal Sports Network will have national coverage of the Boston race and WBZ-TV will handle local coverage in Boston.
The coverage from WBZ-TV - which is also available via an online stream at CBSBoston.com will begin at 7 am EDT.
Universal Sports Network will begin its live coverage at 8:30 am.
Television Schedule for Boston Marathon 2015

7 a.m.-3 p.m. -- WBZ-TV in Boston

8:30 a.m.-1 p.m. -- Universal Sports Network

Online

7 a.m.-3 p.m. -- CBSBoston.com including finish line cam

8:30 a.m.-1 p.m. -- Universal Sports

9:30 a.m. -- BAA.org coverage