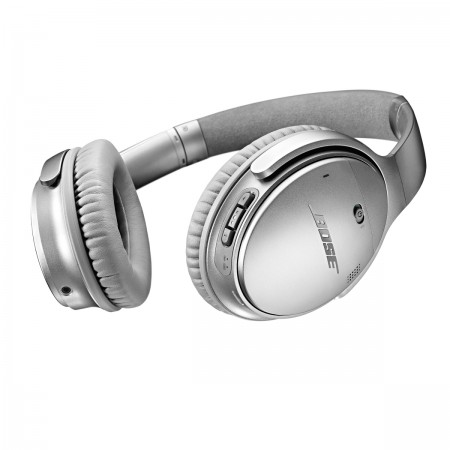 Bose has always been class apart when it comes to audio, with its QuietComfort series reported to offer best-in-class noise cancellation. The company has added yet another device to this line, the QuietComfort 35 and this time, Bose has gone wireless.
The QuietComfort line employs active noise cancellation technology. Bose calls it Acoustic Noise Cancelling and unlike noise isolating headphones that form a tight seal between the ear and the ear cup, effectively preventing sound from entering the ear, active noise cancellation records ambient sound through a built-in microphone, reverses it and plays it back to the user, thus cancelling out the noise. The technology is reported to be most effective when dealing with droning sounds, like say, the engine noise one would hear while flying in an aircraft.
The QuietComfort 35 employs the same technology, employing dual microphones, and pairs with Bluetooth-enabled devices. It even supports NFC, which means pairing it with another NFC-enabled device is a simple as touching the two devices to each other.
The headphone ships with an auxiliary cable that converts them into a pair of regular wired headphones, and when plugged in, the built-in Li-ion battery is claimed to power the noise cancellation technology for up to 40 hours. In wireless mode, Bose says that the headphones will last up to 20 hours.
The headphones interact with Android and iOS devices through the Bose Connect app. The app allows users to seamlessly switch between devices to say, answer a call.
The Bose QuietComfort 35 headphones are available in Black and Silver, and carry a price tag of $349.95.