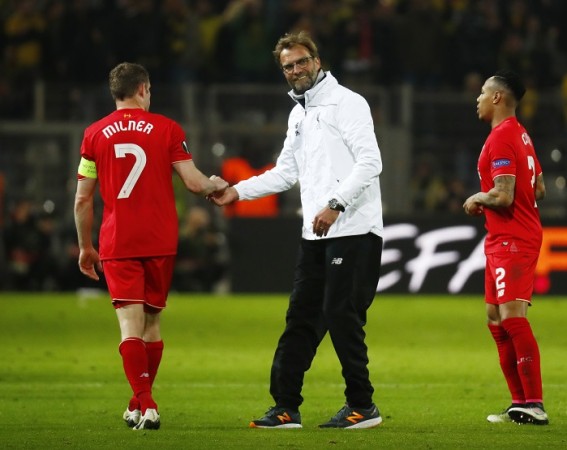 On his return to Borussia Dortmund, Jurgen Klopp's Liverpool side picked up an impressive 1-1 draw in the first leg of the Europa League quarterfinals to take an advantage going into the second leg.
This match was always going to be about Klopp and his return to the club he managed for seven years to great success. And while emotions coming into play would have been acceptable, expected, even, Klopp's Liverpool showed how far they have come since the German took over, putting in an assured, professional performance.
"I'm satisfied with lots of parts of the game," Klopp was quoted as saying by the club's official website. "Our organisation was good and we were brave with our plan. And around the 1-0 we were brilliant, to be honest, really good moments.
"We played direct football and showed what we are capable of. Then, of course, against a team like Dortmund with their quality, organisation and self-confidence, you cannot defend each pass. So you need to be patient in the midfield, you need to be ready to get frustrated when you can't avoid the pass. We had to fight with big passion and that's what we did."
Divock Origi, preferred to Daniel Sturridge in the starting lineup, scored the opening goal of the match for Liverpool, in the 36th minute, before Mats Hummels equalised on 48 minutes to ensure this tie would be at level pegging, in terms of aggregate.
The Liverpool goal was a nicely taken one, with Alberto Moreno chipping a ball to James Milner, who smartly headed it forward for Origi to apply an effective finish.
Dortmund, though, got back in the tie three minutes into the second half, as Liverpool fell asleep in a short corner, allowing Hummels to head home.
"We scored a wonderful goal, quick in mind, really cool. A nice pass from Alberto, nice run by Milly and flick-on, and Divock scored like he played the whole game -- brilliant. In the second half, a setpiece, and how it is in football, that's a fault of all of us. We could have avoided the cross, of course, then Mats Hummels scored the goal but we were still in the game. At the end it was open and I think we deserved the draw."