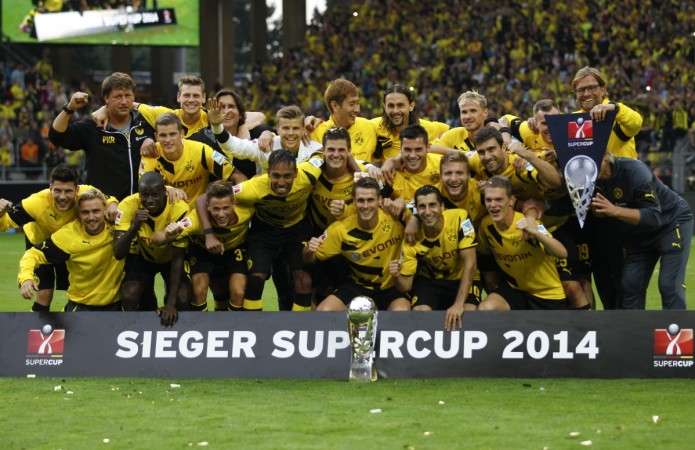 To see a club like Borussia Dortmund field their best team on Indian soil may look like a dream, but it can be a reality soon if Star Network manages to convince the Bundesliga giants to participate in a football match in India.
The Indian media company recently acquired the rights for broadcasting the Bundesliga games for as many as five seasons--until 2019-20--and as a promotional activity for the same, Star India is willing to bring one of the most loved German outfits to play a friendly game in the country, likely to take place either in Delhi or Mumbai.
According to a report published in renowned Bengali newspaper AnandaBazar Patrika, Star Network is trying to convince the Ruhr giants to tour India and play one or two matches against the best Indian players from the Indian Super League (ISL).
Incidentally, Star Sports is also the broadcast partner of the cash-rich football league in India.
The officials at Dortmund are willing to think hard about the proposed tour, and if the report is to be believed, December has been zeroed in as the ideal time by the Bundesliga club's marketing director Carsten Cramer.
"Indian market will understand us better. If we decided to go somewhere as a part of a tour, we think even further than playing just one or two matches. We want to mix with the culture of football present in that place," the official was quoted as saying.
Cramer also confirmed that the club will think about touring India. "'Of course we'll think about it. December is a good time."
The report claims that December 2016 is what is on the mind of the Dortmund authorities, as the calendar for the 2015-16 football season has already been decided by Borussia Dortmund. The last month of the year also remains as an ideal time because the German league takes a winter break.
It has to be noted that Dortmund rivals Bayern Munich also toured India during December for Indian football legend Bhaichung Bhutia's farewell match in 2012 at Jawaharlal Nehru Stadium in New Delhi. A brace from Thomas Muller and a goal each from Mario Gomez and current Manchester United midfielder Bastian Schweinsteiger gave the Bavarians a 4-0 victory against the Indian side.
And if the ongoing talks between Borussia Dortmund and Star Network bear some fruit, seeing the likes of Marco Reus, Mats Hummels and Ilkay Gundogan play in India will not be a distant dream.