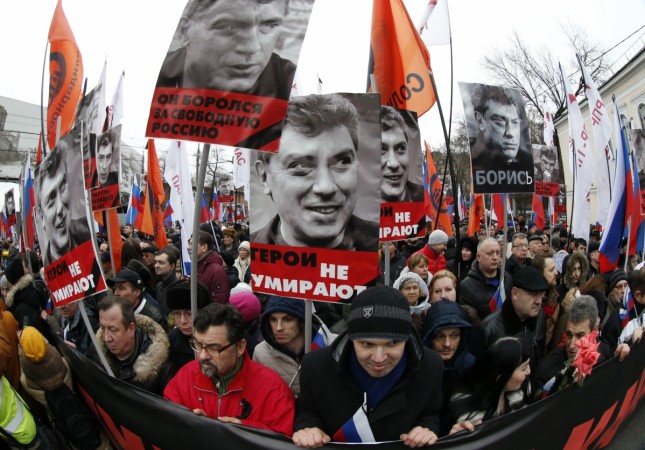 Russian Opposition politician Boris Nemtsov's murder has sparked several conspiracy theories that range from an Islamist attack to an Opposition ploy to put Russian President Vladimir Putin in a spot.
The most prominent theory and accusation behind Nemtsov's murder is aimed at the Putin administration, given that the former deputy prime minister had himself warned of a threat to his life from the Russian president weeks before he was shot dead on 28 February.
'I fear Putin will Kill me'
In an interview to Russian media in February, Nemtsov had said that he feared Putin would "order" his death over his accusations that the president had started a war in Ukraine.
Nemtsov had said that his mother worried about his life, telling him "When will you stop criticising Putin? He will kill you!" The Opposition politician was slated to hold a march on Sunday against Putin over Russia's role in the Ukraine war.
However, government investigators are exploring theories that the attack could have been done by Islamists, given Nemtsov's Jewish lineage and his support for the Charlie Hebdo magazine, and that the Opposition may have used him as a 'sacrifice', according to Vladimir Markin, spokesman for the Investigative Committee.
Opposition Ploy?
"The murder could be a provocation to destabilize the political situation in the country. Nemtsov could have been chosen as a sort of 'sacral sacrifice' by those who don't hesitate to use any methods to reach their political goals," Markin told Russian media, according to RT.
Government officials have accused the Opposition of being behind the murder to turn Nemtsov into a martyr and to help bind the fractured side, according to Reuters.
Islamist Attack?
Markin also pointed at threats to Nemtsov over his support to the Charlie Hebdo magazine after it was attacked by Islamist gunmen in January.
"There are reports that Nemtsov received threats due to his position over the shooting of Charlie Hebdo staff in Paris," he added.
Western agenda?
Chechen Republic head Ramzan Kadyrov reportedly said through his social media account that the attack could have been organised by the 'intelligence services of the West' to spur an internal conflict in Russia.
Ukraine's Role?
According to Sergei Markov, a Kremlin supporter, Ukraine's special services seemingly carried out the attack to push for a more West-friendly government.
Personal Life
Other obscure theories suggest that Nemtsov's relationship with the female companion during the time of the attack may be behind the act, with state television focusing heavily on the Ukranian model, according to The Moscow Times.