Kate Middleton may be the Duchess of Cambridge, but her brother James is the king of edible Instagram marshmallows.
Boomf, the brainchild of James Middleton, is world's first ever edible Instagram marshmallows, made using a special printing technique and edible ink. Boomf allows customers to select a set of nine images from either their own Instagram account or one of their followers, in order to create scrumptious selfies.
A box of these customised marshmallows cost £15 ($26) for a box of 9 each, which has a natural vanilla flavor on it.
Up until July, Boomf shopping experience had been limited to online purchasing, wherein the customers would log on to their Instagram accounts and choose the images they want to get printed. The box of boomfs would arrive in two-three days for deliveries within UK, while the rest of Europe would get it within a week and the rest of the world in about two-three weeks.
Now, however a new Willy-Wonka is like an 'on-the-go' printing machine that's built out of a refurbished 1950s Pashley's ice cream tricycle prints marshmallows on demand. Boomf on Demand, Printed on Demand: The Bod Pod has incorporated modern technology into a retro bike, giving the customers a look into what a digitally-infused past might look like.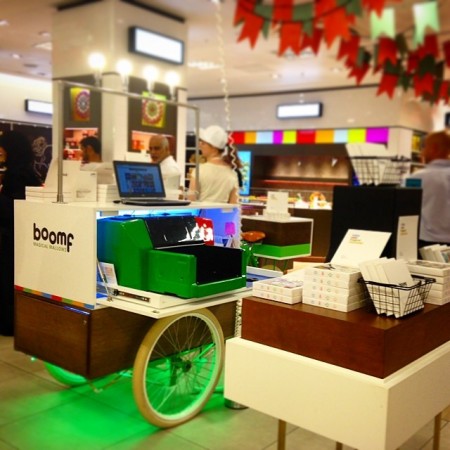 45 percent of Boomf is owned by James Middleton, another 45 percent by Mint Digital, a product development studio that work with start ups, and 10 percent by Steve Finan, London-based entrepreneur. On 12 August, CNN Money reported that Boomf has shipped over 2 tons of marshmallows in less than a year and made £100,000 ($168,000) in sales through its first three months.
Boomf has opened up a world of possibilities with the pure genius of its simplicity. As Minst Digital wrote on their website, "Eat your friends / lovers / enemies! Boomf makes anything edible. Sunsets, kittens, Macchu Picchu, your Auntie Barbara. Devour your mates one by one after dinner, turn your selfies into a romantic gift for your significant other, or roast your ex over a bonfire. Scrumptious. Squishy. Shareable."
Named after the sound a marshmallow makes when they fall on doormats, boomfs are the perfect gift for someone who has been dumped by their boyfriend, so they can burn their ex on a campfire, or dip them in hot chocolate.
"When you see yourself on a marshmallow, or your loved one or your pet, you have a little moment with that little marshmallow. There aren't many products in the world like that," Middleton told the Cut.
These marshmallows have my face on them!!!!!! @boomf you guys are so rad!! #boomf thank you! pic.twitter.com/lELhxgplDv

— Brennen Taylor (@BrennenCTaylor) July 17, 2014
For best Boomf experience, check out their FAQ section before ordering your box of these sticky delights.