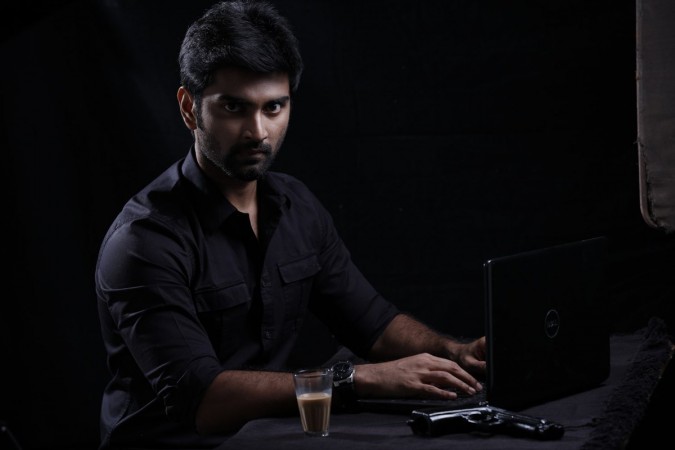 R Kannan of Jayamkondaan and Ivan Thanthiran fame has collaborated with Atharvaa for his latest movie Boomerang. The Tamil movie has Megha Akash playing the female lead.
Indhuja Ravichandran, Upen Patel, Sathish, Narayan Lucky, RJ Balaji, Suhasini Manirathnam and many others are part of the cast. The movie has Radhan's music, Prasanna Kumar's cinematography, while TS Suresh has done the editing.
Story:
Boomerang is an action thriller in which Atharvaa plays the role of Shakthi, an engineer and a person working in an IT Company. He returns to his native Pudukottai after being fired from the company. Upon returning to his village, he along with his two buddies join hands to work towards improving the lives of the villagers.
While fighting for a cause Shakthi invites a lot of trouble for himself. The challenges that he face in his journey forms the crux of the story. The movie tries to addresses the need for the interlinking of rivers, while trying to convey that people can serve the society without being in power.
Analysis:
The movie has a good story and an interesting narration could have made it a wonderful entertainer. Atharvaa's performance in dual roles is easily one of the highlights in the Tamil movie. Megha Akash and Indhuja have played their parts well. Check out the review in the viewers' words below:
Review:
The Tamil movie, which has created quite a buzz, will see the light of the day on 8 March. Here, we bring you the live audience review of Boomerang:
Sreedhar Pillai: #Boomerang has an interesting premise with @Atharvaamurali in striking dual role, but needs more firmness in script & execution.@RJ_Balaji one- liners r fun.
Ramesh Bala: #Boomerang [3/5] : @RJ_Balaji 's satirical digs at politicians and govt officials receive good applause..
@actorsathish 's comedy oneliners
@Dir_kannanR has blended thriller elements with a social message
#Boomerang [3/5] : @Atharvaamurali has both romantic hero and social crusader role..
He has done both well..
@akash_megha looks good and has dubbed for herself.. She has a cute role..
She has performed confidently..
Rajasekar: #Boomerang - Heavy inspiration from #Yevadu and #Kaththi yet the film fails to entertain(Cocktail not mixed properly). A well intended message driven film which lacks freshness!
Haricharan Pudipeddi: #Boomerang borrows its basic premise from Ram Charan's Yevadu and also treads the Kaththi path with a tepid farming connect, only to emerge as a big bore in the end.
Sathish Kumar M: #Boomerang - Good script. Engaging first half with unusual scenes and usual message oriented second half.
@Atharvaamurali looks handsome and has acted well. @actorsathish comedy dialogues in the first half works to good extent in the first half.
: Watched #Boomerang was a great movie to watch with social message and sarcasm at its level best @actorsathish & @RJ_Balaji did a great job on that and @Atharvaamurali did his best in this movie can see the improvement in many ways. Worth Watching [ 4/5 ]
Vijith Amirthalingam: #Boomerang 1st half - @Atharvaamurali looks smart. @actorsathish one line comedies supports the film to not bore. There is something intriguing behind the face, after he get face transplant. Waiting for the second half @Dir_kannanR
V2Cinemas: #Boomerang- 3.25/5 @Dir_kannanR have a well knowledge in social content oriented film. Especially the way of execution process in right method. Smooth first half, engaging second half. @Atharvaamurali apt for this film. @RJ_Balaji lends the support with him.
Biju Peter: #Boomerang has its flaws ...but is a decent one time watch. Thanks to the engaging portions in the second half.
#boomerang interval. You can guess how the movie is going to go in the first few scenes itself. Sure there will be a flashback too, hope thats unique. Strictly average as of now.
Kumara Guru: #Boomerang Trying to deliver thriller cum Social Cause message movie but that message not delivered fully , @Atharvaamurali @akash_megha @Actress_Indhuja Anyways good attempt during #election time wake up call for all youngsters .
#Boomerang FIRST HALF: Movie slowly gain grippness towards the pre-intermission ! @Atharvaamurali looks good in both Romantic personality & as Aggressive youngster #MeghaAkash seen in pretty Role !
#BoomerangFromToday
Gowtham: #Boomerang story inspired from Telgu Movie "Yevadu". RJ Balaji and Satish has done very good job. Movie is very average with poor screenplay. Rating 2/5
Nettv4u: Very Decent social Responsible film which offers gripping second half. Movie has laudable & Bold Subject which gives important solutions to the growth of agriculture.
#Boomerang FIRST HALF: The way in which #Atharvaa handling the unexpected chaos is impressive ! Bold character of #Atharvaa is subtle, @actorsathish offers a good witty dialogues. Action scene in the interval is well crafted which sets stage for the 2nd half
Dec 31 2017 - rajini makkal mandram nalamvirumbi: #boomerang Kannan is the new magician :). Novel concept based on surgery is cleverly used. 2nd half is where the real stuff is. #atharva n #rjbalaji deliver emotional dialogues effectively. scenes based on Agriculture hits high notes effortlessly n VFX is topnotch - 4/5 rating
#Boomerang #kannan spent all his budget in 2nd half with effective vfx which aids the screenplay very effectivly ... the film punches way above its weight ... #impressed