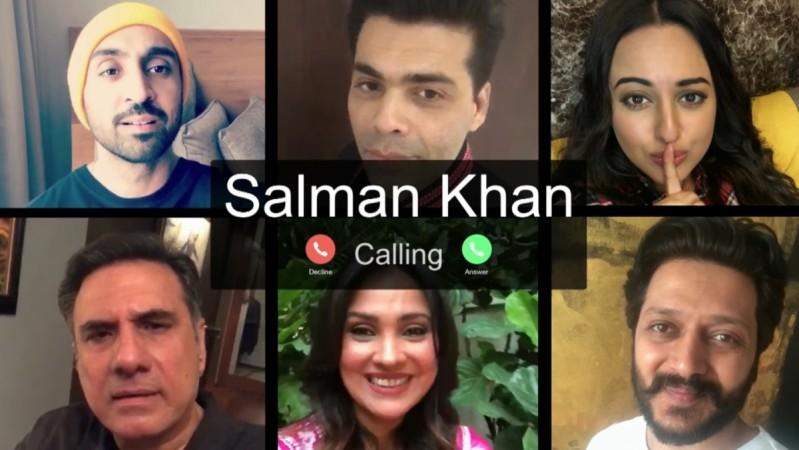 A couple of weeks ago, trade analyst Taran Adarsh tweeted about the upcoming multi-starrer 3D comedy film, tentatively titled Boom Boom in New York along with its release date. The film has a big star lineup including Diljit Dosanjh, Sonakshi Sinha, Karan Johar, Lara Dutta and Boman Irani.
While the movie is slated for release on February 23, 2018, the makers of the film have now dropped a chat video online along with the new title of the film, Welcome to New York.
The nearly 2-minute video shows Sonakshi Sinha upset with Diljit Dosanjh for calling Welcome to New York as his film. She argues that it's not his film but her film since her role is more important than his.
Later, Karan Johar, Boman Irani, Lara Dutta and Ritesh Deshmukh join them in the conference call where everyone is seen voting for themselves for having the most important role in the film.
But the curiosity begins when Sonakshi gets a call from Salman Khan during the con-call which left many wondering about the Dabangg Khan's involvement in the film.
Earlier, Salman had walked out of a collaborative project titled Battle of Saragarhi, which was supposed to be co-produced by the Tiger Zinda Hai actor, Karan Johar and Akshay Kumar.
While the incident hinted at their possible fallout, it now looks like KJo and Salman have finally sorted out their differences.
Watch the video here:
Producer and Pooja Films Director Deepshikha Deshmukh says, "We have a phenomenal star cast and this poster video simply captures the stars having fun and the flavour of the film which is whacky and outright hilarious."
Welcome To New York is a heartfelt, rib-tickling comedy that tells the story of two Indian youths in search of a better life. An unexpected trip to New York City sets them off on a comedic adventure that changes their lives forever.
According to a report published in DNA, the film revolves around the popular IIFA awards.
The report quoted a source as saying, "Unlike Karan Johar who plays himself in the film, Lara doesn't play an actress but one of the characters. She plays the head of the management at IIFA and has a full-fledged role in the movie, which will also have some interesting cameos. Lara's role has different flavours to it and she said yes almost immediately."
Remember that hideous saree worn by Sonakshi Sinha at IIFA awards? Lara Dutta shared a picture on her Instagram handle and wrote: "First of its kind experience walking the green carpet 'in character'!!. Sorry to the fans and press on the carpet, couldn't shake hands or greet you, our film cameras were rolling and you'll are all going to be in the shot!!! [sic.]"
Produced by Pooja Films and Wiz Films and directed by Chakri Toleti, 'Welcome To New York' releases worldwide on February 23, 2018.