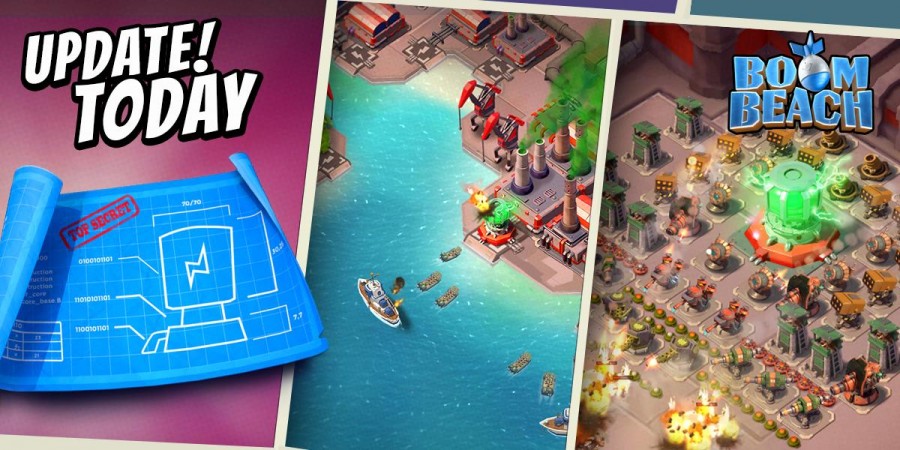 Supercell has released a new update for its strategy mobile video game, Boom Beach. The update titled, "Attack of the Co-op" introduces the new feature of Task Forces Command.
Apart from Task Forces, the update will also be adding new UIs, graphics, Dr Terror harnessing power of Ice Statues, economy and more.
Below are the full patch notes for Boom Beach update (Supercell Forum):
Big Stuff:
Cool UI Stuff:
The #1 player's gold badge gets better with age!
The longer you hold the top spot, the cooler your badge will become
Tap a player's gold badge to see more info
Gunboat abilities have handy countdown timers where they land (thanks for this great suggestion, forumers!)
Armoury usability improvements
Extra hint for Power Stone popover if the Sculptor hasn't been built
Online warning is now a less intrusive clickable icon (this appears after being online for 4 hours in a 24 hour period)
Enemy Activity no longer auto-opens when entering the map screen
Neat Graphics Stuff:
Possibility of rain on tropical islands
Ash particles fall from the sky on volcanic islands
Dr. Terror Got Buff Stuff:
Dr. Terror has built Shock Launchers
Dr. Terror now harnesses the power of Ice Statues
Economy Stuff:
Treasure chests don't spawn as often
Dive Locations spawn more often
Even faster invasion rate when the map has fewer opponents (meaning more bases to attack when your map is clear)
Slower invasion rate when the map has lots of opponents
To balance the above two points, your map won't be able to house as many total invasions at any one time (which means a less overwhelmingly full map at times)
Shorter build times for high level building upgrades
More expensive Diamond speedups (this is to balance the above point)
Less expensive resource purchases with Diamonds
Other Stuff:
Many bug fixes and performance optimizations
Supercell further explained the changes it's bringing to the game's antagonist, Dr Terror. It said that lot of high level players found Dr Terror very easy in the game. If found that many players were able to cruise through his 20 stages in 15 minutes or lesser. This made player earn a lot of resource with less challenge. So Supercell brought in changes which will make it difficult to clear the 20 stages of Dr Terror.
Before the release of the update, the developer revealed that Task Forces will be coming in four different max player sizes: 5, 10, 25 and 50. Players will be starting at 5 and will eventually increase. And, once the max player size is increased, it can never be decreased again. Task Forces will be available at Head Quarters Level 6.
On Intel, the developer said that it can be collected from attack and defense, however if players leave they cannot take it with them. The contribution of intel of every member of the Task Force will be visible. Each week, the contribution will be reset to zero.
The sneak peeks also revealed , that players will have to use their intel and chat with the members of the task force to pick the target. They have to make good use of the intel to launch the operations. Players will be able to earn Force points, more the points better the rewards. Each operation will be lasting only for 24 hours.
It was also revealed that one of the difficult bases to attack was the Blackguard bases. The key to attacking these bases will be the co-ordination among Task Force members via Chat. Every member of the force will get to make one attack during the time of the operation. Any buildings that are destroyed in the attack on the Power Base will earn Force points. If players destroy the Power Core, they will be able to earn all the Force Points.