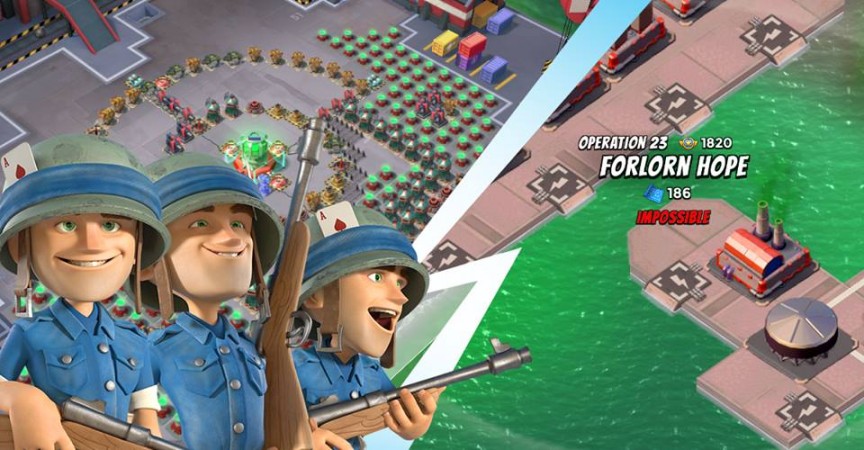 Boom Beach, the strategy mobile video game from developers Boom Beach, revealed a Forlorn update that will introduce some new features and improvements to the game.
The update is currently live and adds a brand new Operation Forlorn Hope and new event Cycle of Evil.
Imitation Game
Lt. Hammerman, the evil general has been watching all the best bases and has copied them in this new Cycle of Evil. Players will have to take on him and defect the bases. The Cycle of Evil will feature Copy Cat Commander, Hard Copies, where he would have copied the best of HQ 10-11 and HQ 12-13.
There are two requirements that players have to fulfil -- player must upgrade their Radar to level 9 and they must destroy Hammerman HQ II.
Players defeating Forlorn Hope will be rewarded with loot and 1860 Force Points.
Barbed Wire marks new addition to Operations. These will slow down advancing troops and pull some damages. However, it cannot be destroyed.
Meanwhile, Supercell finished a short maintenance to fix an issue with Gearheart's War Factory.
Update Notes
New
New Operation: Forlorn Hope
New Cycle of Evil event: Imitation Game
New Gearheart Base layouts
Improvements
HQ Upgrade requirements added to levels 6-8
Retreating Critters no longer explode (they will continue to distract defences)
Defensive building ranges now shown during replays
Base Layout improvements (there is now an option to remove objects in the way)
Friendly Challenge improvements - Sending a challenge will now take a 'snapshot' of your base instead of the attacker seeing your current layout if you change it.
Smaller Changes
Machine gun level 22 shooting animation improvements
New UI button for the Shop
Supply chest rewards are now displayed on the Rank up screen
Kicked Players will no longer receive OP rewards