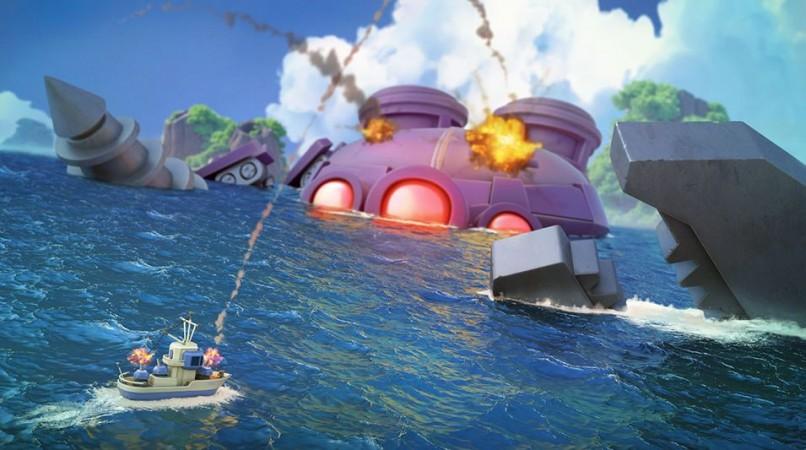 "Boom Beach," the popular mobile strategy video game from developer Supercell, has received a new Dr.T's 'Mega Crab' event, which enables players to earn more resources.
The three-day event was the evil project of the villainous Dr. T, through which he wants to take over the archipelago using the help of a robotic mega base called Mega Crab that emerges from beneath the ocean to a place near the home base of the player.
The new event has an interesting addition this time around. It is called the Speed Serum. Destroying Speed Serum enhances the take down Mega Core.
Players will have to strategically choose troops and boost statues in order to progress in difficult stages.
Following its release, Supercell has released FAQs on the Mega Crab event.
Where is Mega Crab found?

The Mega Crab is found to Archipelagos whose Home Base HQ is level 7 or higher.
How often can players attack the Mega Crab?

Players can attack it as often as they like, provided they have attacks that are available. They will also get one free attack after they complete a stage and one new attack per about 2 hours.
Stages in the event are same for all

All Commanders around the world face the same challenge and are rewarded the same. All Commanders have the same amount of time to defeat the many stages of Dr.T's Mega Crab.
The working of Mega Crab leaderboard

There are three leaderboards, namely, Local, Task Force and Friends Leaderboards. Each of them shows the stages that each of the Commander clears and his/her progress.

It must be noted that the local leaderboard depends on the local country code of every Commander.
Mega Crab attack system's working

Players do not need gold to attack Mega Crab but they would have to defeat the Mega Crab within the set amount of attacks. Every time a player attacks his/her remaining attacks would be reduced by one.

Players would be starting with three out of a maximum of eight attacks. A player would gain one new attack about every 2 hours and the regeneration happens soon enough, even if the player is online or not.
Mega Crab event rewards

The event offers guaranteed rewards like wood, stone, iron and gold. Apart from this, players also receive Power Stones, Intel (only if you are part of a Task Force), Power Powder (only if you have the Sculptor), Protoparts (only if you have the Weaponlab), Diamonds.
Cryo Bombs

Cryo Bombs is the ultimate Mega Crab super weapon in Dr.T's arsenal. When players destroy them, it bursts a ray of ice, thus freezing buildings in a particular radius. This affects the defence turrets that end up having lower Damage per Second. Moreover, they also affect friendly troops that are within the radius.