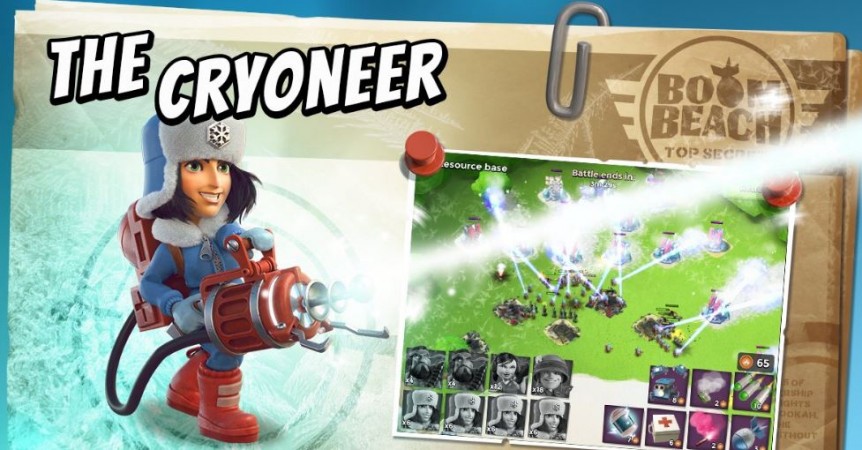 Update: 12:00 a.m. IST, June 7:
The June update for "Boom Beach" is currently live for several video game players.
Update: 4:11 p.m. IST, June 6:
Supercell has shared more details of its June update for "Boom Beach" on its official forum post:
New Stuff
The Cryoneer is a brand new troop that shoots a beam to freeze and slow enemy defenses!
Friendly Battles allow you to challenge your Task Force to attack your base
​They will not cost you any troops
New Ranks and more rewards at the highest Victory Point levels

The new Ranks are Cadet (170-230), Brigadier(820-1000) and Legend(1725-2000)
Troop Loadouts allow you to save your favorite troop combinations for easy switching

Unlocks at Gunboat level 10 starting with two slots. More slots will unlock at Gunboat levels 13, 16, 19, and 21.
Improvements
The Supply Chest will now always reward a Fragment, Shard, or Crystal
The Supply Chest's cooldown timer starts when you collect it, and lasts for 20 hours
Fragments can now be mass converted into Shards
Rank icons will now appear on the map
Players must note that Supercell has said that changes have been make to Troop Loadout levels.
Original:
"Boom Beach," the strategy video game from developer Supercell, has let players get a sneak peek into the upcoming June update that promises to add new troop unit, additional features like Troop Loadouts, Friendly Battles, Ranks and more.
Supercell shared its details about the new June update via a post on its official forum.
The Cryoneer – June update would bring a new troop unit called The Cryoneer, who can freeze his enemies, buildings. The troop is able to slow down the enemy and is able to deal a low level of damage. When deployed, the troop moves with moderate speed and has a medium range.
This troop unit is unlockable at HQ level 20. Good companion for Zookas and Heavies. But the Cryoneer's attack can cause friendly fire issues too.
Legend Ranks – Players will be motivated to reach the highest levels in order to unlock Legendary ranks that would earn big rewards on a daily basis.
Troop Loadouts – Players would not only be able to save their favourite troop combinations but would also be able to switch troops and hasten the loading up of Landing Crafts. Players can do this by tapping on their Gunboat and selecting the blue troop icon.
This feature starts from Gunboat level 10. It is expected to have two slots initially and additional slots would unlock at Gunboat levels 13, 16, 19 and 21.
Friendly Battles – Supercell recently introduced this feature for its popular video game, "Clash of Clans" and now teases the feature for "Boom Beach" too. Players would be able to challenge their friends at their Task Force via the blue "Challenge" button on top of the chat window. Pressing it will send a message asking players if they are ready for the challenge. The battle can be replayed.