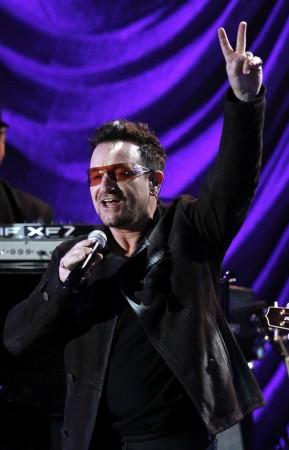 Irish rock band U2's frontman Bono says that he may never be able to play guitar again due to the injuries he sustained in a New York City cycling accident last November.
"Recovery has been more difficult than I thought. As I write this, it is not clear that I will ever play guitar again. The band have reminded me that neither they nor Western civilization are depending on this," Bono said in the message that he wrote from his home in Dublin, Ireland, Reuters reports.
He stated this in his 'A to Z of 2014' that is published on the band's website. The 54-year-old Irish rocker broke his arm in six places and also suffered a fracture to his left eye socket. He also fractured his hand and shoulder blade in the "freak accident".
After he crashed his bike in Central Park in what doctors call a "high-energy bicycle accident when he attempted to avoid another rider", Bono had to undergo hours of surgery.
Bono revealed he had a titanium elbow and in the letter to his fans said that he was not able to move around and would need to "concentrate hard" to be able to embark on U2's next tour, in May.
His U2 bandmates are The Edge, Adam Clayton and Larry Mullen.
Bono further wrote: "I personally would very much miss fingering the frets of my green Irish falcon or my ... Gretsch. Just for the pleasure, aside from writing tunes. But then does the Edge, or Jimmy Page, or any guitarist you know have a titanium elbow, as I do now?"
This week, he spoke about being on painkillers for weeks now and said that he had a "massive injury, I can't blame on anyone but myself," BBC reports.
Bono said that he "blanked out on impact" and doesn't really remember how he ended up at a hospital with the bone in his upper arm sticking out of his leather jacket.
"Very punk rock as injuries go," he added.