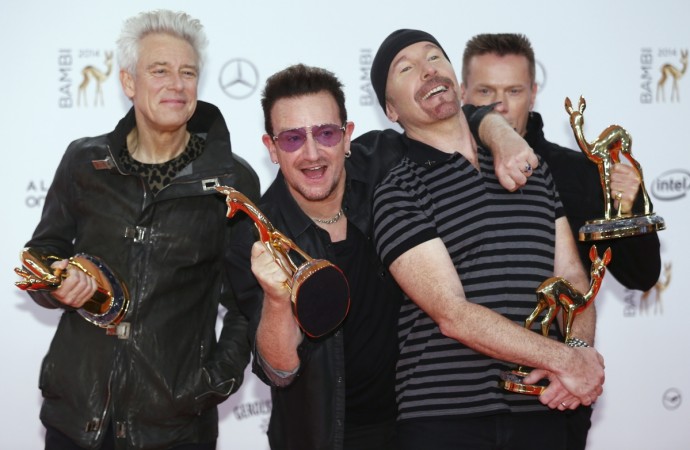 U2's Bono narrowly escaped death 12 November when the rear door of his private jet reportedly fell off mid-flight while he was travelling from Dublin, Ireland, to Berlin, Germany, to attend the Bambi International Music Awards.
The U2 frontman was making the two-hour afternoon trip with four friends in the six-seat Learjet 60, which made a safe landing at Berlin's Schoenefeld Airport despite the aircraft's damaged state, New York Daily News reports. Aviation authorities in Germany are investigating the incident, Hollywood Life reports.
"To our knowledge, there was no danger of crashing. The German Federal Bureau of Aircraft Accidents Investigation has begun an investigation into the cause of the incident," said Berlin Schönefeld Airport spokesperson Ralf Kunkel.
The 54-year-old singer was reportedly the only U2 member on the plane. The other bandamtes, Larry Mullen, the Edge and Adam Clayton were supposed to fly separately late at night. The band was due to accept an award at the music event, but Bono was travelling early as he had to attend a diplomatic function with the German Minister of Economic Cooperation and Development, Gerd Mueller.
When the plane was over the German coast, at about 8,000 ft above ground, the tailgate of the aircraft became detached. A source close to the Irish rock star told Daily Mail: "He was extremely lucky, the plane could have gone down. About an hour into the journey they heard a big thud coming from the rear of the plane. They were startled for a bit but they continued on and made the descent into Berlin airport. When they landed they were horrified to learn that the compartment at the rear of the plane had completely detached. The entire door along with Bono and his companions' luggage had fallen out mid-air. They don't know if the door and the contents landed over water or land, but they were extremely lucky."