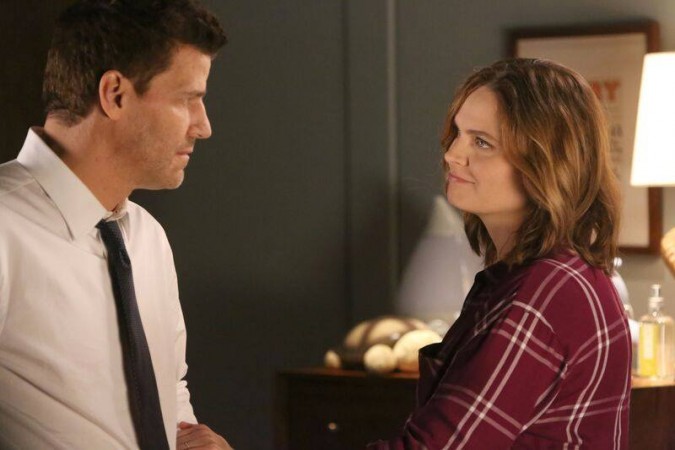 The first two episodes of Fox's "Bones" season 11 saw Brennan solving the mystery of Booth's disappearance and Jared Booth's death.
By the end of the episode, Booth and Brennan had decided to resume their jobs at the FBI and the Jeffersonian respectively, and episode 3 entitled "The Donor in the Drink" will see the duo realising that a lot has changed since their departure six months ago.
In addition to adapting to these changes, Booth will also have to deal with his brother Jared's death. According to showrunner Michael Peterson, there is a lot of guilt as well as grief, and Jared's death is going to have a lot of impact on Booth throughout the season.
"There's going to be guilt that he's going to undoubtedly feel," Peterson told TVLine. "I've gone through this season comparing Booth to Superman on many different occasions. Superman hopes he can save everybody. It's painful to him that he couldn't save his brother. That will have a deep impact on him throughout."
The episode will also see Cam making a decision regarding her relationship with Aristoo, who has left the Jeffersonian to pursue other opportunities. However, viewers aren't done with Aristoo just yet.
According to the showrunner, he will be back in the 10th episode of season 11.
"Certainly, for a while, Arastoo is gone. He is off looking at other opportunities. But he will also be somebody who's coming back in the 10th episode and starting up a new, major storyline," Peterson said.
According to the official synopsis of "The Donor in the Drink", Booth and Brennan's first case will be to solve the murder of someone whose internal organs have been harvested, and the remains dumped in a fish farm.
"Angela tracks down the seller and buyer of the organs to try to uncover important details in the case. Meanwhile, Booth readjusts to his position back at the FBI and discovers Aubrey has taken over his old office; Hodgins pushes Angela to showcase her photography work; and Cam struggles with her decision to choose work over her relationship with Arastoo," the synopsis reads.
Bones season 11 episode 3 can be watched online via Fox Now.