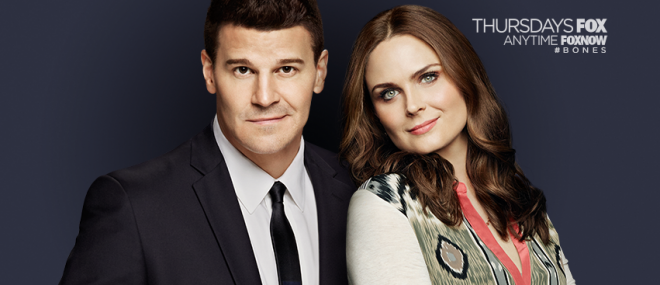 Thursday's episode of Fox's "Bones" will see Jeffersonian scientist Clark Edison being investigated for the death of a billionaire explorer.
The episode is titled "The Stiff in the Cliff" and Brennan and team will have to find out if the explorer who went missing about a decade ago died of natural causes or if he was murdered. Brennan's investigation reveals that Henry Charles, the billionaire, died during an expedition about 10 years back and the timeframe puts Clark Edison as a key suspect as he was also part of the expedition.
Suspicion on Clark being somehow linked to the murder increases when he refuses to help Aubrey and Booth with the investigation by pleading his right to remain silent.
Elsewhere in the episode, viewers will see Cam's sister coming into town to help with the wedding. But family friction will ruin what should have been a happy reunion.
The synopsis for the episode reads:
When the remains of famous billionaire explorer Henry Charles are found in Antarctica, the high profile case is brought to Brennan and Booth to determine if his death was a murder. The Jeffersonian team confirms he was killed when he went missing ten years ago on an expedition, but the timeframe puts the Jeffersonian's Dr. Clark Edison (guest star Eugene Levy), who was with Charles for the expedition, on the short list of suspects.
After this Thursday's episode, "Bones" will go on a short hiatus before it airs its final two episodes of the season. According to TVLine the final two episodes will be aired on July 14 and July 21, and the short break is because of the long Fourth of July weekend, when television viewership is usually at its lowest.
"Bones" is aired Thursdays at 8 p.m. ET on Fox.