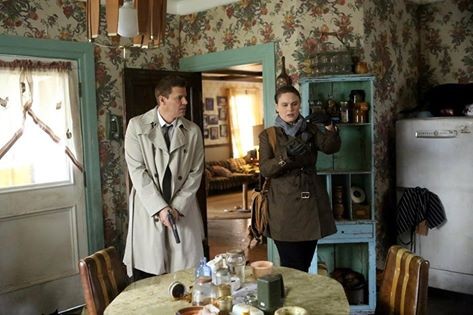 "Bones" will return this Thursday with a new episode that will introduce a creepy serial killer whose story will spill into future episodes. Thursday's episode is titled "The Monster in the Closet" and it will see Booth and Aubery investigating the death of a social killer who died in suspicious circumstances. They soon find yet another decomposing corpse and there appears to be a pattern to the two murders.
As usual, the Jeffersonian will be roped in to help with the investigation and the team will find evidences that reveal that the murdered lived with the bodies for months before discarding them. The will lead the FBI agents to enlist the help of behavioral analyst Karen Delfs to find out the psyche of the killer.
As for the identity of the serial killer, showrunner Michael Peterson revealed that fans may or may not be familiar with the new villain. "There's an insanity to this person that's different from our previous killers," he told TVLine. The serial killer storyline will conclude in the finale of season 11. "It's going to be as big a climax as we've ever done," Peterson said.
"So I hope everyone knows you're going to go for a ride in that episode," the showrunner told Mashable about Season 11 episode 13. "You're going to go for a ride the whole season. But at the end of the day, we're not going to launch you off the tracks."
The official synopsis for "The Monster in the Closet" reads:
The Jeffersonian investigates the decomposing body of a social worker in the park, but evidence suggests the killer lived with the body for months before dumping it. Things get even more complicated when they determine another set of remains has similar details, which link the victims to a serial murderer who had sinister interactions with his victims' bodies. Booth and Aubrey consult with behavioral analyst Karen Delfs (guest star Sara Rue) to help with clues to the killer's identity while Cam tries to determine what (and who) she wants in her romantic life.
"Bones" Season 11 airs Thursdays at 8 p.m. ET on Fox network. Click here to watch the episode live online.