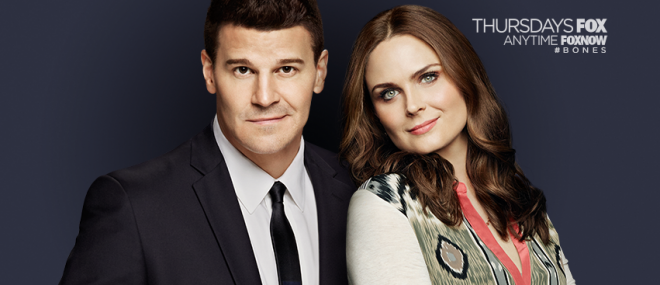 Thursday's episode of "Bones" is titled "The Murder of the Meninist" and the episode will see both Brennan and Hodgins, who recently found out that he'll never walk again, exhibiting their temper in front of their colleagues. However, they lose their cool for different reasons.
Brennan apparently takes out her frustration at the co-founder of a men's rights group after she gets annoyed with his behaviour. The Jeffersonian will be involved in the murder investigation of the founder of the men's rights group and one of the suspects is the co-founder. Brennan, usually one of the most rational people on the show, surprises Booth when she punches the suspect during an interrogation.
"As Brennan learns more about the tenets of the victim's organization, which claims middle-aged white men are oppressed and feminists are man-haters, Brennan uncharacteristically loses her cool during an interrogation," the synopsis according to Wikia reads.
As for Hodgins, the fact that he'll never walk again has made him a bitter person and it gets difficult for others to work with him. A sneak peek of Thursday's episode shows Hodgins saying that the world is full of messed up people and that he is one of them, and this statement makes Cam uncomfortable. Hodgins' disability will also strain his relationship with wife Angela, and many have been predicting a breakup for the couple.
"He's really going through the whole gamut of emotions responding to this loss," Executive Producer Michael Peterson told TVGuide. "There's going to be anger, denial, hopefully at some point acceptance. This is definitely going to be a different Hodgins than we've seen in a long time. This has brought him to the worst place possible. He is a bit of a volcano, so we're watching him get ready to blow and the effect it will have on everyone. The first person to be a casualty will be Angela."
"Bones" airs Thursdays at 8 p.m. EDT on FOX. Click here to watch the episode online.