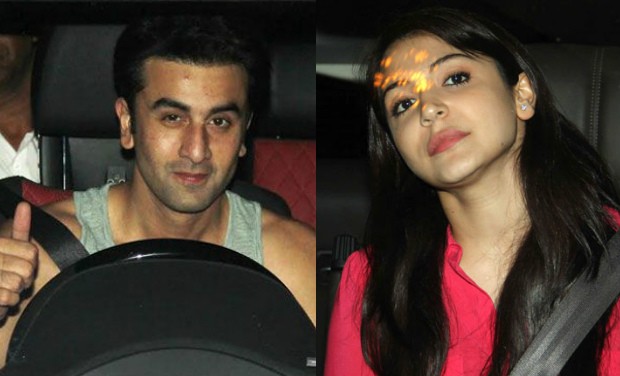 Despite the beefed-up security on sets, another photo revealing Ranbir Kapoor's character in "Bombay Velvet" has found its way out.
The second photo leak has Kapoor walking away looking at the camera directly in his grey waistcoat and blue shirt similar to what was seen previously. The actor sports a messy hairdo and looks quite lean in the distant shot.
Exclusiv new Photo of Ranbir Kapoor as Johnny Balraj on the @BV_BombayVelvet set. pic.twitter.com/U3YltCADhx

— Bombay Velvet FC (@BV_BombayVelvet) April 15, 2014
Kapoor plays the character of Johnny Balraj, a street-fighter-turned-tycoon in the film. And the first photo leak of the actor had him dressed in a similar outfit. The film's leading lady, Anushka Sharma's first look as Rosie, the nightclub singer was also revealed online soon after. The actress in the leaked photo is seen in Victorian-styled head gear with her face partially covered.
Exclusiv Ranbir Kapoor & Anushka Sharma First Look as Johnny and Rosie in Bombay Velvet. @BV_BombayVelvet pic.twitter.com/uk3vncsF4v — Bombay Velvet FC (@BV_BombayVelvet) April 7, 2014
Meanwhile, Anurag Kashyap-directed "Bombay Velvet" has run into legal trouble after a photographer from a leading newspaper house filed an FIR against the film's crew. The photographer has alleged that he was harassed and manhandled for clicking pictures of Kapoor's new look in the film.
"The lens man was assaulted by bouncers on the set after which he approached the local police station to file a complaint against them. They tried to snatch his equipment and were forcing him to delete the pictures...it was Ranbir's new look for his role in the film that has not been revealed yet, which probably angered the crew," informed a source to Mid Day.
However, the film's producer Madhu Mantena refuted the allegations and stated that the photographer was caught taking pictures without permission and was taken to police station where he assaulted a bouncer from the film team and fled. The lens man later came and filed a police complaint against the crew. Mantena's statement has been backed up by director Anurag Kashyap.