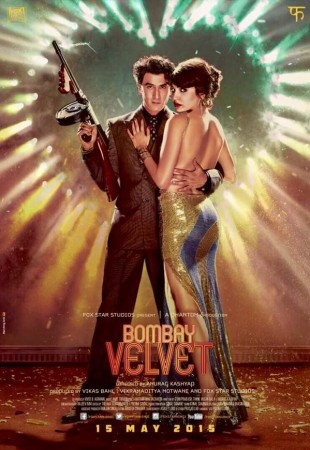 It looks like things are not going as expected for the latest Rabir Kapoor movie, as the film is still struggling at the box office. The latest box office collection suggests that the film's count is becoming weaker by the day.
"Bombay Velvet", which is in its first week, is reportedly one of the lowest performing movies of Rabir Kapoor after "Roy". According to reports, the new movie has made ₹21 crores at the domestic box office and on its sixth day, the film has managed to gross over ₹1 crore.
"'Bombay Velvet' has already proven to be a disaster at the box office. The film crossed the ₹20 crore mark after struggling for the first six days. It collected approximately ₹1.30 crores on its sixth day, thus taking its total to ₹21 crores at the domestic box office," reported Koimoi.
The movie had shown signs of improvement in the beginning of the week, when it collected ₹2.10 crore on its first Monday; but the latest numbers are not in favour of the film.
The second weekend will pose a major challenge for the film, as Kangana Ranaut and Madhavan starrer "Tanu Weds Manu Returns" will be out soon. The upcoming movie has managed to create a huge buzz and this might result in loss for many screens showing "Bombay Velvet".
Moreover, Deepika Padukone–Amithabh Bachchan is continuing its success run at the box office. The movie has already garnered over ₹100 crore at the worldwide box office collection.
Similarly, Akshay Kumar Starrer "Gabbar Is Back" is continuing with positive reports from across the globe even after the release of "Piku"; and has already found a place in the ₹100 crore club. With these numbers, the trade for "Bombay Velvet" seems to have come to an end.