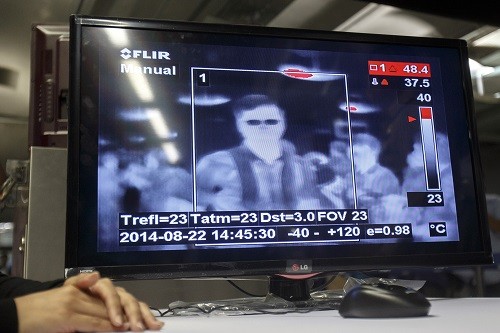 The Maharashtra government has been ordered to set up proper health screening facilities in Pune and Nagpur airports for people arriving from Ebola-hit countries, within the next two days.
The Bombay High Court gave the verdict on Wednesday, while hearing a public interest litigation (PIL) filed by activist Ketan Tirodkar.
"Considering the seriousness of the matter, provide health screening facilities (for passengers) on par with that provided by the Central gov at Mumbai international airport," a division bench of justices Abhay Oka and Girish Kulkarni said, according to DNA.
"If steps are delayed, you know the consequences," Justice Oka, said, according to The Times of India.
Though Mumbai and Delhi airports have these screening facilities, the PIL questioned the current facilities available in India to tackle the deadly virus and added that the country is not fully equipped to fight Ebola, The Health Site reported.
Meanwhile, through an affidavit submitted to the court, the Union Government assured that they have already taken proper safety measures to prevent the entry of Ebola into the country.
Though Pune and Nagpur do not have any direct flights from West African countries, at least six and three international flights (respectively) provide services to these airports, Rui Rodrigues, Centre's advocate, told TOI: "These are not direct flights, but they arrive from Dubai and Sharjah," he said.
He said that they have already made it mandatory for all travellers visiting the country to undergo health screening provided by the airport.
Everything about Ebola
Ebola Virus Disease (EVD) has been named after the Ebola River in Yambuku, a small village in Mongala District in Democratic Republic of Congo (DR Congo) in Central Africa, where the deadly virus first appeared in 1976. Nzara in Sudan was another place hit by the deadly virus in the same year.
Fruit bats of the Pteropodidae family host the deadly virus, according to the World Health Organization and the latest reports have attributed the current Ebola outbreak to colonies of migratory fruit bat, according to The Guardian.
The virus can be spread through blood, urine, faeces, semen of a person or animal infected with Ebola. Symptoms include body ache, high fever, vomiting, diarrhoea, haemorrhaging and joint pain.
While efforts to develop an effective cure are already on, the deadly virus has already killed almost 2,296 people across West Africa and is expected to affect another 70 million lives in the future.