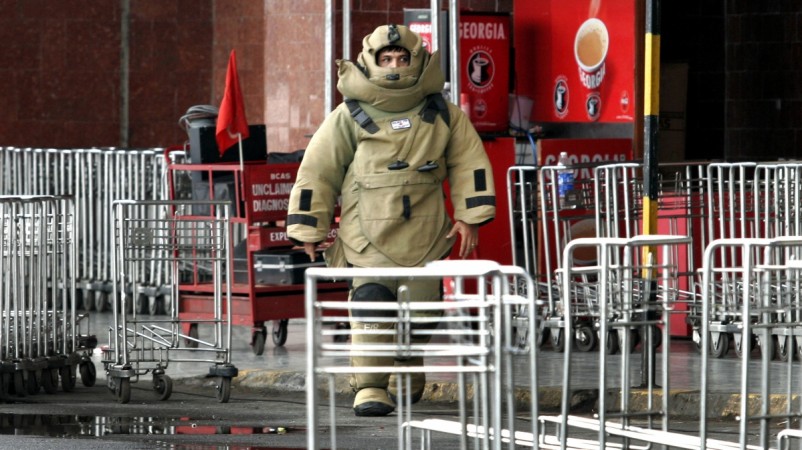 The bomb threat on Thursday at Gurgaon's Unitech Arcadia in sector 42 could be a hoax, said the police, based on initial investigation and added that the caller would be nabbed soon.
The call was made at 9.23 am to the police.
The police said they were not taking any chances. Soon after receiving the call, the police drill as per Standard Operating Procedure of Gurgaon Police was initiated, Commissioner of Police Navdeep Singh Virk said, The Times of India reported.
The Gurgaon police along with the bomb detection and disposal squad was deployed in and around the Arcade after completely evacuating the building by 11:25am. The bomb disposal teams have been sent inside the building to search for any suspected bomb.
To avoid panic, the police diverted the traffic and called ambulances and fire brigades in case of any untoward circumstances.
The Gurgaon police control room received a similar call on Wednesday afternoon, warning of bomb explosions at Delhi Metro's HUDA City Centre station and two markets in posh areas in Gurgaon.
The caller had told the police that a bomb was planted in the station's basement and in Vyapar Kendra in Sushant Lok area and Galleria Market in New Gurgaon.
"I have planted a high intensity bomb in a car parked in the basement of the HUDA City Centre station. I have also done so in two markets of New Gurgaon. 'Bacha sako to bacha lo' (Save if you can)," said the caller.
However, after carrying out rescue operations and scanning the place, the police found out that the call was a hoax.
Thereafter, the caller was successfully tracked down. "The call was made from the National Capital Region (NCR). We have almost identified the caller but we do not want to reveal the identity at this point," a police officer told IANS.