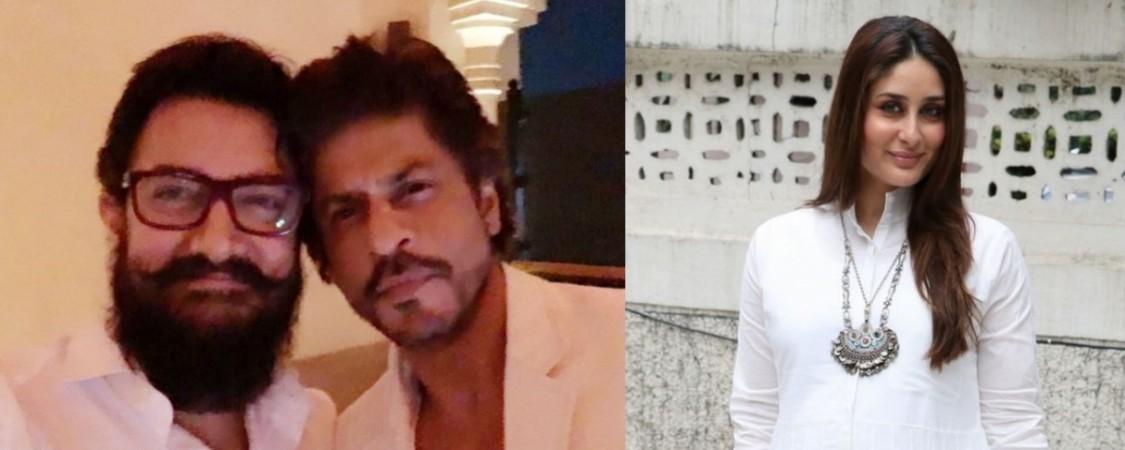 A lot has been happening in Bollywood at the moment. Kareena Kapoor Khan charges whopping amount for an ad campaign, Katrina to turn producer and many more.
Take a look at the other top Bollywood news-makers:
Shah Rukh Khan and Aamir Khan pose together for the first time:
For the first time ever, Shah Rukh Khan and Aamir Khan were seen posing together for the cameras. The two recently attended entrepreneur Ajay Bijli's 50th birthday bash in Dubai. Shah Rukh took to his Twitter handle to share the picture. He captioned it as "Known each other for 25 years and this is the first picture we have taken together of ourselves. Was a fun night."
Kareena Kapoor Khan's whopping charges:
There is no doubt that Kareena Kapoor Khan is one of the most sought after actresses, although she didn't have several releases in the past few years. Now, rumour has it that the Jab We Met actress charged a bomb for ad campaign for a channel. A DNA report said that it was whopping Rs 12 crore for a two day shoot.
Katrina Kaif likely to turn producer:
After Anushka Sharma and Priyanka Chopra, it seems Katrina Kaif too is set to add another feature to her cap. According to reports, the actress is mulling over turning a producer. Apparently, her first production venture will feature her sister Isabel. Meanwhile, Katrina will also be focusing on her acting projects. Her sister Isabel made an appearance in the 2014 film Dr Cabbie, which was co-produced by Salman Khan.
Sonam Kapoor to release Swara Bhaskar's Anaarkali of Arrah teaser
The teaser of Swara Bhaskar's next Anaarkali of Arrah will be released by her good friend Sonam Kapoor on Saturday, February 11. "Swara is a dear friend and someone I deeply respect as an actor. When I saw the teaser of 'Anaarkali of Arrah"' I was so excited and happy to lend my support to her and the film," Sonam told PTI.
The Nil Battey Sannata actress expressed her gratitude towards the Neerja actress for supporting her film. "Sonam is the most wonderful person I know in Bollywood. She is one of the most encouraging and enabling woman and friend anyone can ever have," Swara said.