Hollywood has always been a great source for Bollywood movies and there are several movies which have been an inspiration for Hindi movies. Currently the forthcoming Hrithik Roshan – Katrina Kaif starrer "Bang Bang" is the remake of Tom Cruise – Cameron Diaz starrer "Knight and Day" (2010).
It is not just movies, Hindi film makers have also taken ideas from west for making posters. Here are few examples of those Bollywood movies whose posters are copied from the West.
PK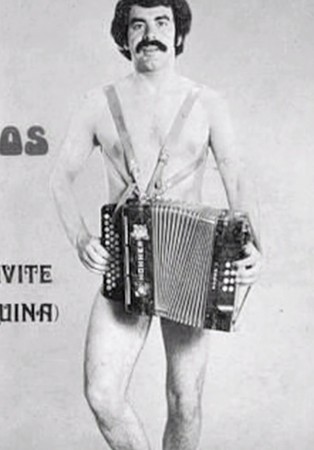 Aamir Khan starrer "PK" is the talk of the town before its release itself. The poster of this film has raised many eyebrows and received many criticisms. The nude Khan standing on a railway track covering his front with a stereo has created controversy all over the nation. It is also said that the movie's poster is copied from an album cover of a Portuguese musician named Quim Barreiros. The album poster was released in 1973 in a similar manner.
Ek Villian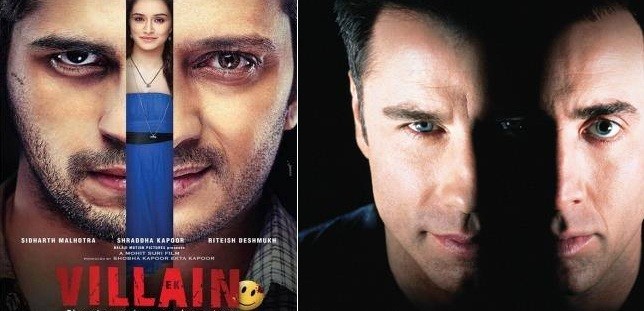 The box office hit "Ek Villian", starring Shraddha Kapoor, Siddharth Malhotra and Riteish Deshmukh, also raised controversy with its poster. The poster, where Malhotra and Kapoor standing face to face, is similar to the movie poster of "Step-Up". Another poster of the same Hindi film, where Malhotra and Deshmukh's half face are shown, also resembles a movie poster of "Face Off".
Heroine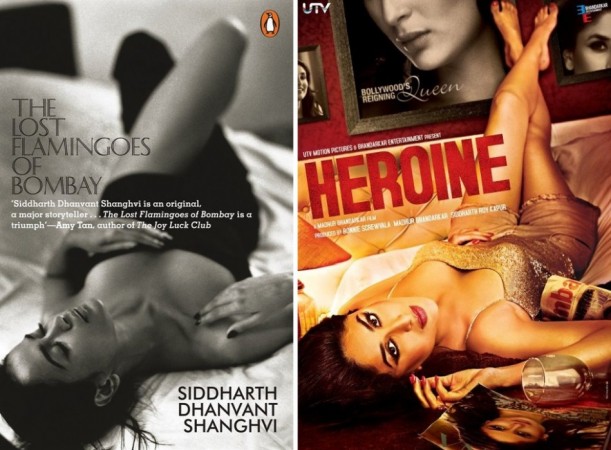 Madhur Bhandarkar's "Heroine" (2012), starring Kareena Kapoor, didn't go well in Box office but made headlines with the film's poster. It is similar to the cover of Siddharth Dhanvant Shanghvi's novel "The Lost Flamingoes of Bombay", which was released in 2009.
Kites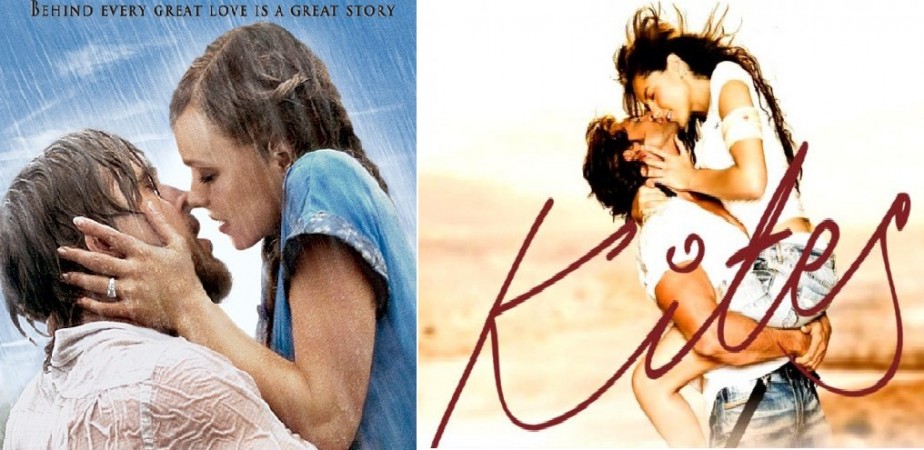 The sizzling romance between Hrithik Roshan and Barbara Mori in the film "Kites" had hit headlines during its release. The film didn't do well but raised eyebrows with the release of its poster. It looks alike to the famous Hollywood romantic movie poster "The Notebook."
Creature3D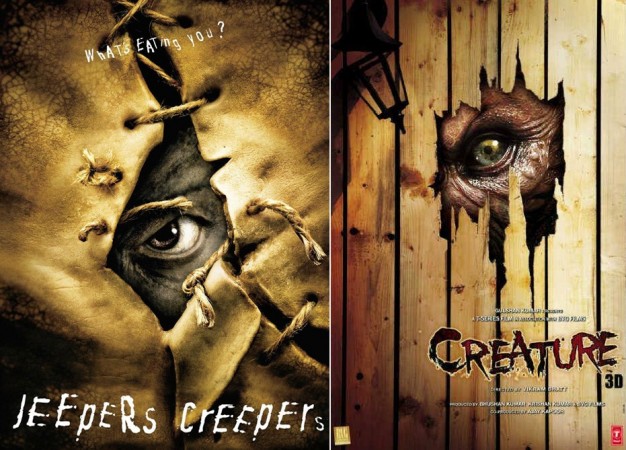 "Creature 3D", a horror film directed by Vikram Bhatt, stars Bipasha Basu and Imran Abbas Naqvi. The movie poster proves to be very similar to Hollywood film "Jeepers Creepers". It was a spooky movie released in 2001.
Ra. One
The superhero movie of Shah Rukh Khan "Ra. One" was not very successful but made news of being inspired heavily from Christopher Nolan's film "Batman Begins" (2005). Even the film poster was no different from the poster of the Hollywood movie.
Anjaana Anjaani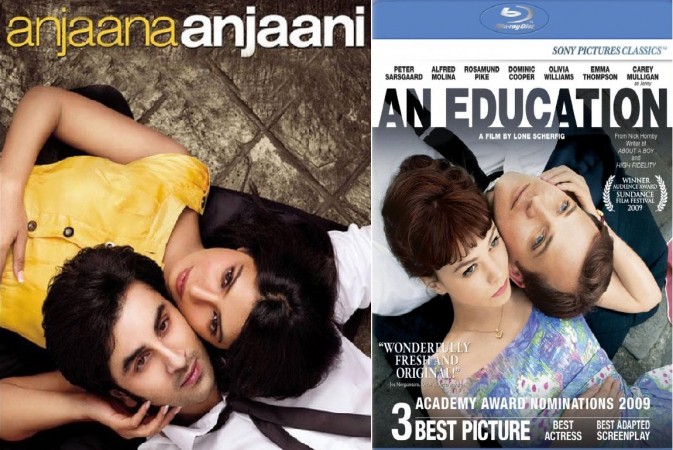 Ranbir Kapoor and Priyanka Chopra starrer "Anjaana Anjaani" was not a big hit but the poster proved to be a copy of a Hollywood film. "An Education" is a 2009 movie and its poster resembles Kapoor and Chopra's movie.
Mausam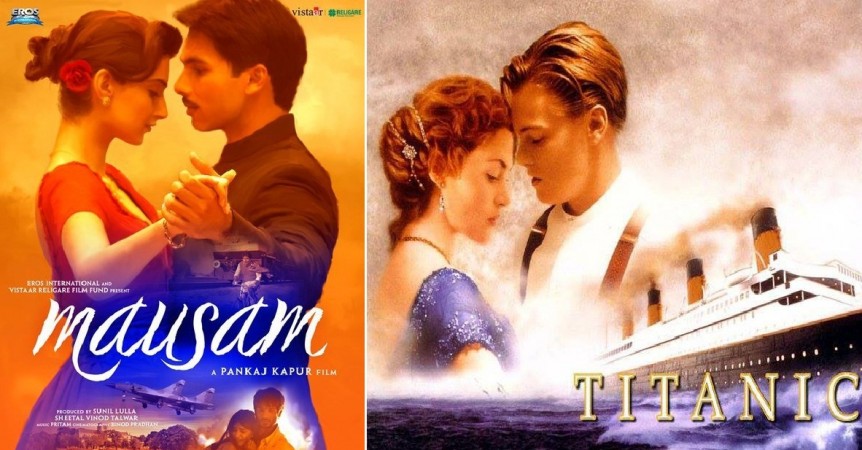 "Mausam", starring Shahid Kapoor and Sonam Kapoor, tried to take the audience back in time but failed to do so. Even the film poster looks similar to the all time classic "Titanic", where Rose and Jack are standing in Waltz dancing position. The magic created by Leonardo DiCaprio and Kate Winslet is hard to remake ever in the film industry.
Xpose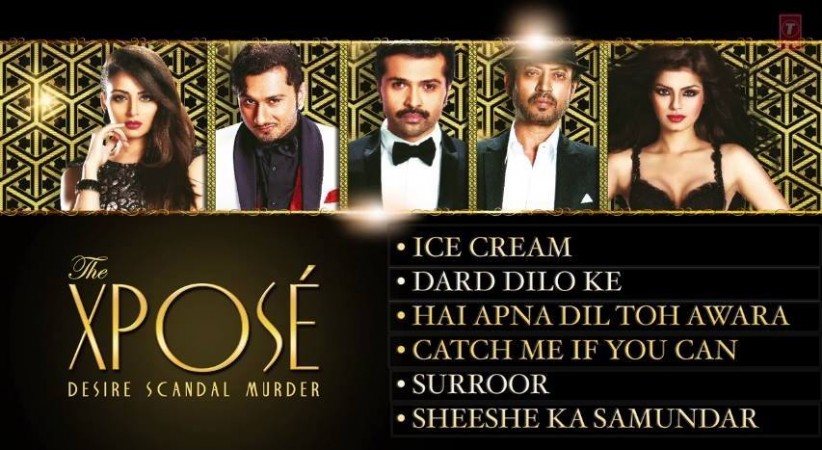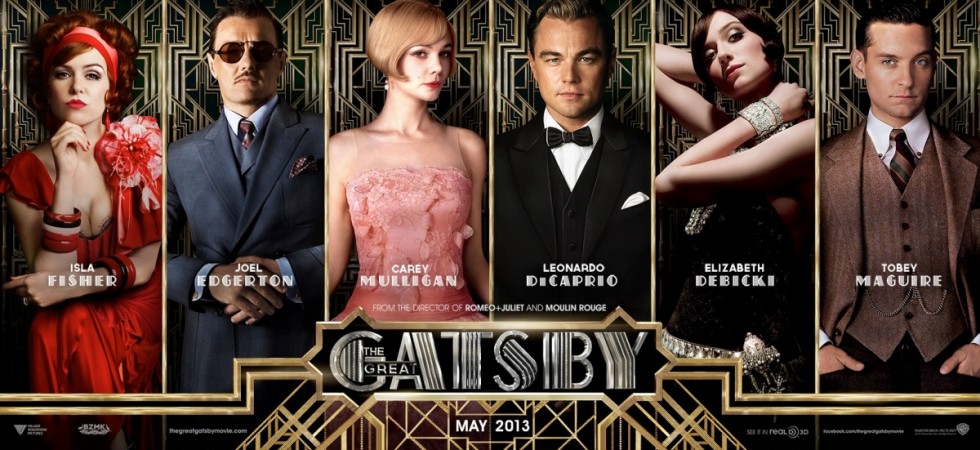 Himesh Reshammiya's "The Xpose" movie poster has proved to be a carbon copy of Leonardo DiCaprio's "The Great Gatsby". Even there are two-three rip-off of the poster which also resembles the Hollywood movie.