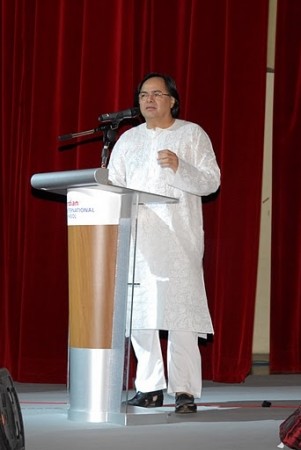 The Hindi film industry lost many well known names in 2013. Let us have a look at some of the celebrities who bid adieu to the world last year.
Bollywood's most loved villain Pran Krishan Sikand passed away at the age of 93. He has acted in over 300 films and was honoured with awards, including the Padma Bhushan and the Dadasaheb Phalke Award. He had starred in classics, including "Upkar" and "Milan".
"Nishabd" actress Jiah Khan, allegedly, committed suicide by hanging herself at her Mumbai residence. Khan, who was brought up in England, has acted in Bollywood films such as "Ghajini" and "Housefull". However, the reason for her death still remains a mystery.
Legendary singer Shamshad Begum, 94, passed away at her residence on April 23, 2013. She was among the first playback singers in the Hindi film industry. She has sung more than 6,000 songs in various languages, including Hindi, Tamil and Bengali. Some of her famous songs include "Leke Pehla Pehla Pyaar", "Mere Piya Gaye Rangoon", "Kabhi Aar Kabhi Paar", "Kajra Mohabbat Wala" , "Kahin Pe Nigahen Kahin Pe Nishana" and "Saiya Dil Mein Aana Re".
Veteran actor Farooq Sheikh died on 27 December following a cardiac arrest. He won National Film Award for Best Supporting Actor for the film "Lahore" in 2010. He is known for his performances in films such as "Kissi Se Na Kehna" and "Garm Hava". Kavee Kumar's "Club 60" was his last film.
Jagdish Mali was a film and fashion photographer. He has taken photographs of Bollywood celebrities such as Anupam Kher, Shabana Azmi and Rekha. He is the father of actress Antara Mali.
Bollywood's veteran actor Jagdish Raj, who holds a Guinness world Record for being the most typecast actor, died on 28 July. This famous police inspector of Bollywood has acted as a police inspector 144 times in various films. "Imaan Dharam", "Gopichand", "Gopichand Jasoos" and "Don" are some of his popular films.
Playback singer Manna Dey passed away last year. This legendary singer was honoured with various titles, including the Padma Shri, the Padma Bhushan and the Dadasaheb Phalke Award. Some of his hit songs include, "Ay Mere Pyare Watan" and "Laga Chunri Main Daag".