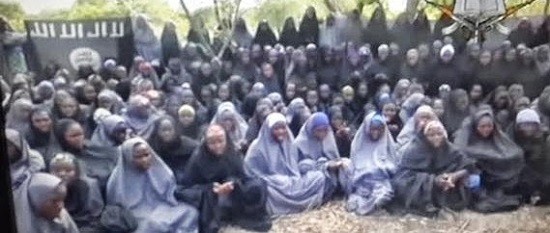 In the latest video released by the notorious Islamic militant group, Boko Haram has mocked Nigerian government's claim of a ceasefire agreement, saying there is no such deal.
In the video, the Boko Haram leader Abubakar Shekau also claimed that he has now married off all the schoolgirls, who now have been converted to Islam.
If the new Boko Haram video is indeed released by the dreaded leader of the group Shekau, then the Nigerian government will have a lot of explaining to do.
On 17 October, the Goodluck Jonathan government officials had announced that they had struck a deal with the Islamist terror group for a 'ceasefire.'
The deal, the government said, also included the release of more than 200 Chibok girls kidnapped by the group in April.
In the video which was released on Saturday, Shekau said: "Don't you know the over 200 Chibok schoolgirls have converted to Islam? They have now memorised two chapters of the Quran."
Watch Video where Shekau says "we have married off" Chibok School Girls
Mocking the Nigerian government's announcement, Shekau chuckled: "We married them off. They are in their marital home." In the video, Shekau reportedly spoke in Hausa. He also said that he did not know the Nigerian mediator, Danladi. "We will not spare him. We will slaughter Danladi if we find him," he said of the negotiator.
Mike Omeri, coordinator of Nigeria's National Information Centre, told CNN that the Nigerian government will do everything possible to verify the claims made in the video.
"We've heard about the video, and we can say the road to peace is bumpy -- and you cannot expect otherwise," Omeri said. "Nigeria has been fighting a war, and wars don't end overnight."
In the video, Shekau promise more violence in Nigerian . He said there will be more "war, striking and killing with gun".
Relatives of the abducted Chibok girls told AFP that they were always doubtful of the Nigerian government's ceasefire claims."We were skeptical about the talks of releasing our girls and we never took the ceasefire seriously because since the announcement, they have never stopped attacking communities," head of the Chibok Elders Forum, Pogo Bitrus, said on Saturday.
The claim that the girls have been married off is 'shocking', however, we know Boko Haram and so we are not surprised, said Bitrus, whose four nieces are among the hostages.