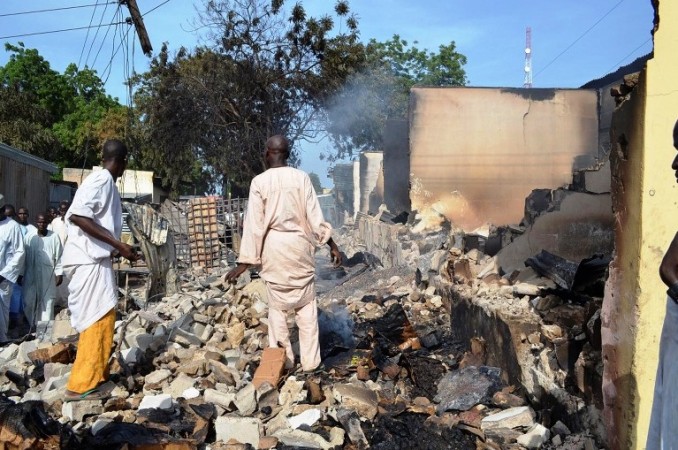 Violence and reign of terror unleashed by the Islamic terror group Boko Haram continues unabated as hundreds of innocent villagers were killed and another eight girls were abducted in Nigeria.
On Tuesday afternoon, suspected gunmen belonging to Boko Haram attacked the Gamboru-Ngala Local government area of Borno State and indiscriminately started firing at people, according to certain local media reports. .
A dozen gunmen armed with sophisticated weapons entered the busy market in Gamboru-Ngala in Helix vans on Tuesday afternoon and started indiscriminately firing upon people. The AllAfrica reported that the Boko Haram militants further dragged several traders, who were found hiding in homes and slaughtered them publicly.
The killing spree continued for over three hours during which over 100 people were killed. However, some media reports estimate that at least 200 have been killed in this fresh violence. Several buildings, residential homes and even police barracks were destroyed by the militants. The gunmen also took away food supplies and livestock.
Following the violence, several residents have fled to the neighbouring countries of Cameroon and Chad Republic for safety. Gamboru-Ngala is a border town between Nigeria and Cameroon and is about 185 kilometres from Maiduguri, the Borno State capital.
Reportedly on Tuesday, the Boko Haram militants in a late night raid in Maiduguri abducted another eight girls aged between 12 and 15. This is the second such incident, the first being the abduction of over 200 Chibok school girls.
The abduction of over 200 girls in Nigeria put the country quite in a spot and has once again brought out the state of affairs in the country. Both the US and UK recently came forward to help the Nigerian army to trace the Boko Haram militants.
(Ed:AJ)