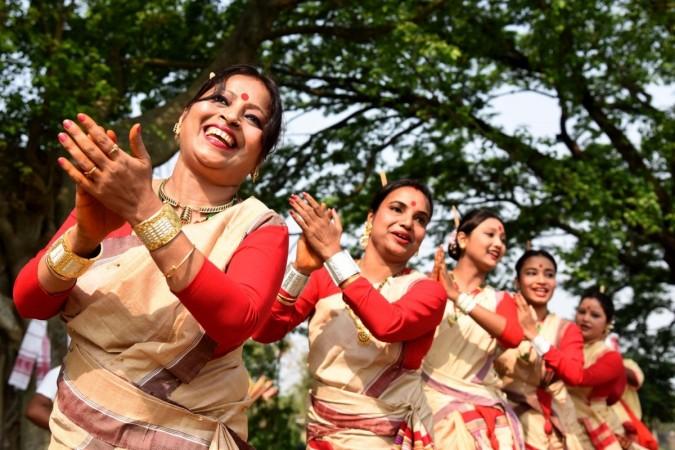 Bohag Bihu or Rongali Bihu marks the beginning of Assamese New Year. It is falling on April 14 and 15 this year. It is the joyous Spring festival of the Assamese community and is celebrated by the locals irrespective of caste, creed, and religion.
In a year, Bihu is celebrated thrice among the Assamese community. While Bohag or Rongali Bihu is celebrated in mid-April, Kati or Kongali Bihu in mid-October, Magh or Bhugali Bihu is observed in mid-January.
Of all, Bohag or Rongali Bihu is the most joyful. The first day of the Rongali Bihu is called Goru Bihu. On this day, livestock are worshipped, offered food and decorated with colorful garlands.
The second day of Rongali Bihu is called Manuh Bihu, meant for human beings. Locals celebrate it by wearing new clothes and greet each other by presenting newly woven "Gamosa" and start the new year with positivity.
They also indulge in a lot of sweet dishes that include pitha (a rice cake), and traditional foods like larus (made of coconut or black sesame seeds). Bihu dance and songs are performed by both men and women and it is the major highlight of the festival.
The third day of the festival is called Gosai (Gods) Bihu and on this day, people worship idols after cleaning their homes.
Here are a few Bihu greetings messages that you can send to your loved ones or an Assamese friend through WhatsApp and Facebook:
B-Bond of Love, I-Icon of Assam, H-Humanity, U-Unity.. This is our Bihu, our soul..wish you all a Happy Rongali Bihu 2017
Wish you a very Happy Bihu. May your life be as colorful and joyful as the festival of Bihu.
Another Rongali Bihu is here. Let us banish our worries and mistakes and start afresh. Happy Bohag Bihu!
Let us welcome this Rongali Bihu with great hope, eagerness and anticipation. Let us look forward to a plentiful year of joy, satisfaction, peace and prosperity.
Rongali Bihu stands for new and fresh – Life is always new and fresh – Let us strive to make all days Bihu.
May this festival of zeal and verve fill your life with lots of energy and enthusiasm; and may it help you bring happiness and prosperity to you and your loved ones. Heartiest Bihu greetings...
Enjoy the festive season! Sing and dance with fun...Wishing you happiness on this Bihu...
This is a time of new beginnings and for the celebration of life – Happy Rongali Bihu
Let us vow to take life in our stride this Bihu and make it tolerable as well as beautiful by accepting sorrow and happiness with sanity.
Here are a few Bihu greetings in Assamese:
Kopou fulil, togor fulil bakhontor hubah loi, kuli-ketekiye geet jurile bohagor botora loi, bihur hiya bhora hubhessare. HAPPY RONGALI BIHU!
Bihuti ahise, dhul pepa bajise, birikhe holaise paat, nahoror hubakhot ure mon, ulahot bihu bihu lagise gaat bihur hiyabhora subhessa jonalu. Happy Bohag Bihu!
Kuhipate Hojale Dhoroni,
Aakakhe Lole Meghor Uroni,
Meghor Maaje Maaje Rodor Tirbironi,
Aiyai Je Bohagor Agomoni
Rangali Bihu Aru Asomiya Notun Bosoror Hiya Bhora Ulog Jonalu.
Apunalok xkoloke bohag bihur hiya bhara olag janalo