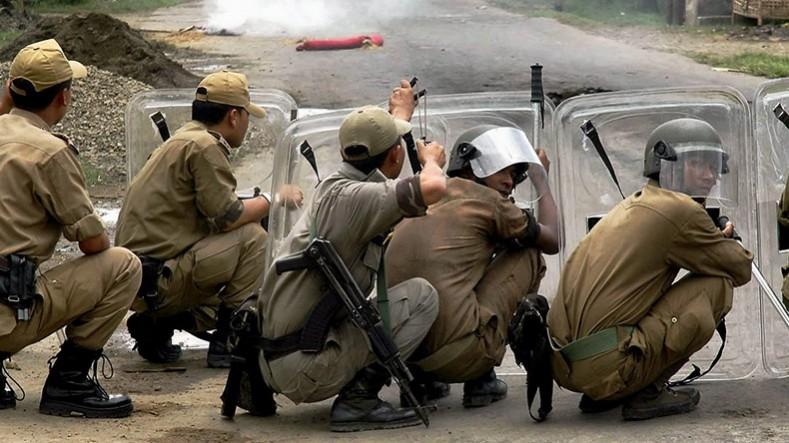 The bodies of eight men who were killed in a police firing in Churachandpur in Manipur in 2015, were finally laid to rest after 632 days. The last rituals of the men were carried out by the leaders of the Joint Action Committee Against Anti-Tribal Bills (JACAATB).
Eight people were killed in police firings on August 31, 2015 in Churachandpur in the wake of violence erupted after the former Congress-led government announced three controversial bills riling the tribal communities in the region. The bills included the Protection of Manipur People's Bill, the Manipur Land Revenue and Land Reforms (Seventh Amendment) Bill, and the Manipur Shops and Establishment (Second Amendment) Bill.
The tribal communities protested against the killing of the men by keeping their bodies in the morgue of the district hospital in Churachandpur. The decision to finally lay the bodies to rest came as a truce was reportedly reached after the newly formed BJP-government signed a tripartite memorandum of understanding with the Union Home Ministry and the JACAATB on May 10, 2017.
"In the future, any new bill which affects the interests of indigenous tribal people, the state government will follow due procedure as laid down in the Constitution of India and relevant rules in consultation with all stakeholders," the MoU stated.
The communities then decided to lay the bodies to rest on Wednesday, which were taken in eight different trucks to the public grounds in Lamka.
Manipur: Last rites were performed yesterday after state Govt & JAC-ATB struck an understanding to end a deadlock that lasted over 632 days pic.twitter.com/Gvs2l59MtL

— ANI (@ANI_news) May 25, 2017
Manipur Cabinet ministers V Hankhalian, Thongam Biswajit Singh, L Dikho and Nemcha Kipgen apart from chief secretary O Nabakishore attended the funeral ceremony.
"It was a solemn function attended by thousands of people from the community. The families are finally at peace," chief convenor H Mangchinkhup told DNA.
The MoU reached by the state government also stated that all the families of the dead will be given Rs. 4 lakh as compensation, and Rs. 50,000 will be given to those injured in the firing. The MoU also promised employment to those who were disabled in the incident.
Reports state that a memorial park will also be made in Lamka with financial assistance from the state government, and an investigation into the death will be inititated by the Manipur government.