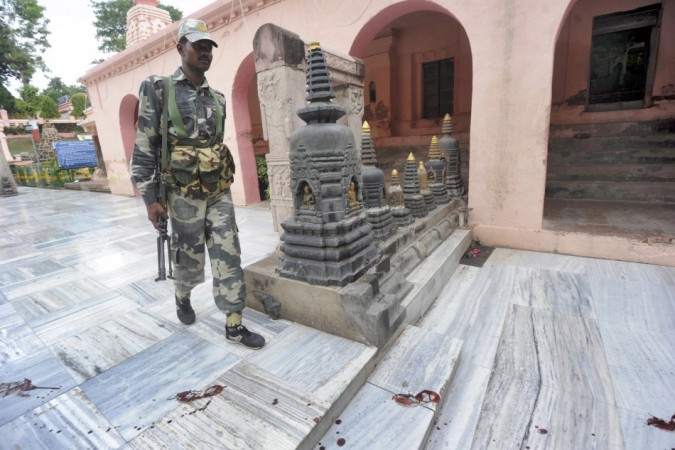 Bihar police has detained one suspect in West Bengal in connection with the serial blasts at Bodhgaya temple on Sunday.
The suspect, identified as Anwar Hussain Mallik, was arrested from Nadia district with ₹1.9 lakh in fake currency, reported NDTV. Reports said he was detained based on an identity card found in the temple premises.
Mallik is alleged to have connections with terrorist group Indian Mujahideen (IM) and supplied explosives for the 2010 Pune German Bakery blasts which killed 17 people.
According to reports, about 2-3 kg of ammonium nitrate and urea were used to make the 11 bombs planted at the temple. The first bomb went off at 5.30 am on Sunday, after which a series of eight blasts took place. There were two other live bombs found outside the Mahabodhi temple complex which were defused.
The bombs which were defused carried inscriptions in Urdu. Some of the inscriptions translated to 'Badha Budh' (big Buddha) and 'bus'. Authorities suspect the wordings referred to the 80-feet Buddha statue and probably a tourist bus.
The Home Ministry said Sunday's incident was a "terror attack". The National Investigation Agency (NIA) and National Security Guard (NSG) have launched an investigation into the blasts.
Delhi police had earlier alerted the Bihar state government about a possible terrorist attack at the Bodhgaya temple following a confession by IM suspects who were detained last year.
"Sustained interrogation of the accused arrested by us revealed that a person Sayed Maqbool was in close association with (the four previously arrested terrorists) and together they planned to commit fidayeen attacks on the Buddhist shrines in BodhGaya in Bihar as retaliation to the alleged atrocities being committed upon Muslims in Myanmar," the Delhi Police had said in an official statement in October 2012.
Taking note of the warning, Bihar police beefed up security by installing multiple CCTV cameras but only one of them recorded the blast at the temple.
Authorities have also tightened security at the Tibetan spiritual leader Dalai Lama's official palace and nearby Tsuglagkhang temple in Dharamshala. The Lama had visited the world heritage site at Bodhgaya twice in the past three years.